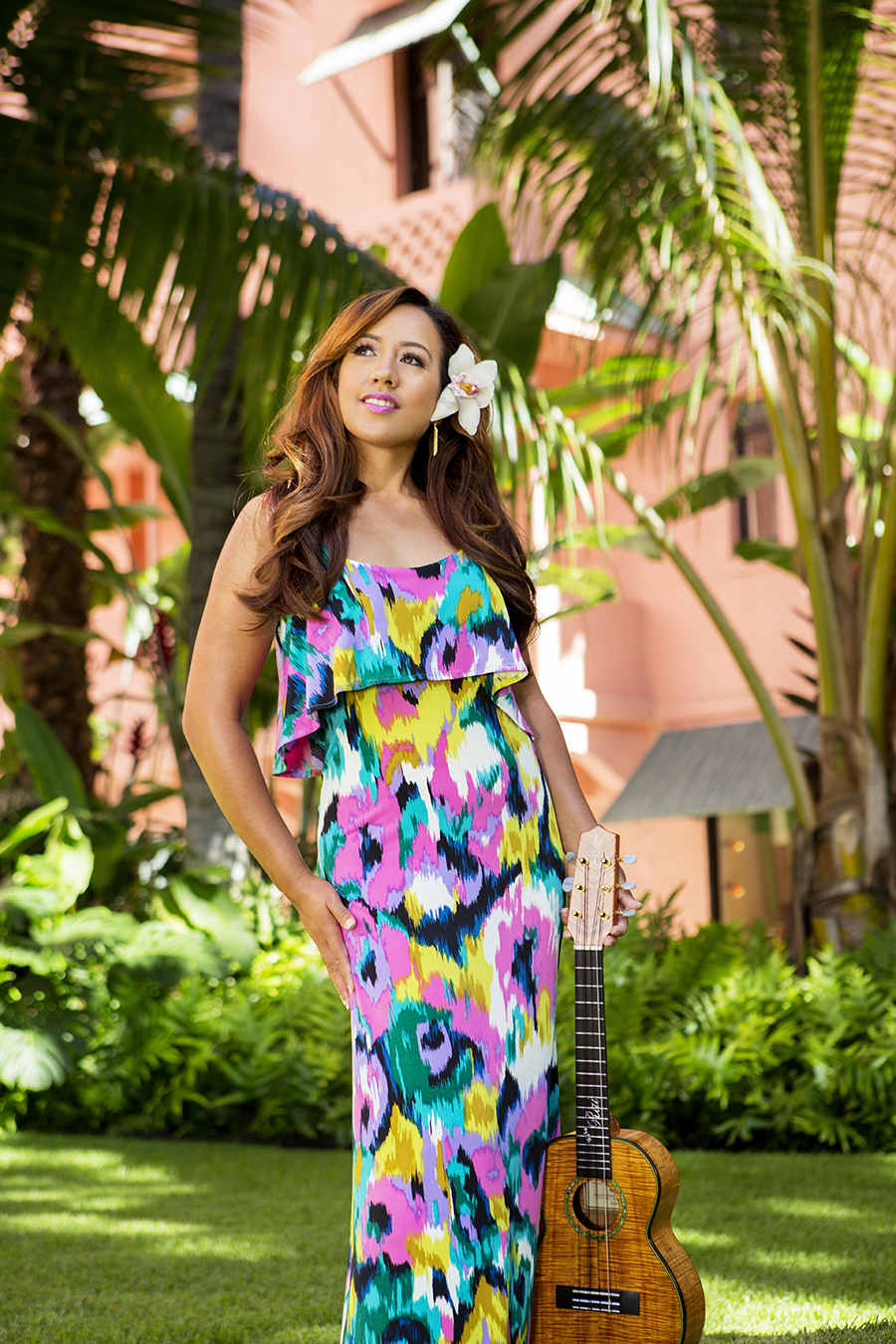 Raiatea Helm
vocals & 'ukulele
"[She] sings in the high-voiced throwback leo ki'eki'e style … poised and utterly elegant." –New York Times
Raiatea Mokihana Maile Helm set the Hawaiian music community on fire when she was just 18 years old, with the release of her debut CD Far Away Heaven in 2002. With her pure, clear voice she is a natural performer of leo ki`eki`e (Hawaiian falsetto), and within days of the CD release, she was being heralded as the successor to such Hawaiian music greats as Aunty Genoa Keawe. She went on to win 2 prestigious Na Hoku Hanohano (Hawai'i's "Grammy") awards for Female Vocalist of the Year and Most Promising Artist.
Her second release Sweet and Lovely more than confirmed her early promise — she earned 4 more Na Hoku Awards in 2006, including Favorite Entertainer, and made Hawaiian music history by becoming Hawaii's first-ever solo female vocalist to be nominated for a Grammy©. The album was recognized in the top 10 of "The 25 Greatest Hawaii Albums of the New Century." Raiatea received a 2nd Grammy nomination in 2008.
In 2011, she became the first Hawaiian recipient of a prestigious Native Arts & Cultures Fellowship. And most recently, in 2017, she was named Female Vocalist of the Year by her peers when she was awarded her 8th Na Hoku Award.
She is now recognized as one of Hawai'i's premier female vocalists and a keeper of the Hawaiian falsetto tradition of the early to mid-20th century. Accompanying herself on 'ukulele, with a 2- to 3-piece band that includes guitar, slide steel, and bass, Raiatea captures the attention of audiences throughout her native islands and around the world, interpreting traditional Hawaiian song with the mastery and control of a jazz vocalist. Jazz selections have started to find their way into her repertoire, including classics of the Waikiki nightclub era of the 1940s and 50s. To fully explore this music, she occasionally performs with a big band.
Past Tours Dates
2018
Sat, May 12, 2018, Sea Life Park, Waimanalo HI
Makapu'u Twilight Concert Series

Sun, Oct 21, 2018, Blue Note Hawai'i, Honolulu HI
2017
Tues, Mar 28, 2017, The Triple Door, Seattle WA
Fri, Mar 31 & Sat, Apr 1, 2017, The Smith Center for the Performing Arts, Las Vegas NV
Sat, July 15, 2017, Makapu'u Twilight Concert Series, Sea Life Park, Waimanalo HI
Sat, Oct 7, 2017, Whittier College, Whittier CA
Fri, Oct 27, 2017, Blue Note Hawai'i, Honolulu HI
The One They Call Hawai'I
AWARD-WINNING PERFORMERS FROM HAWAI'I AND THE PACIFIC