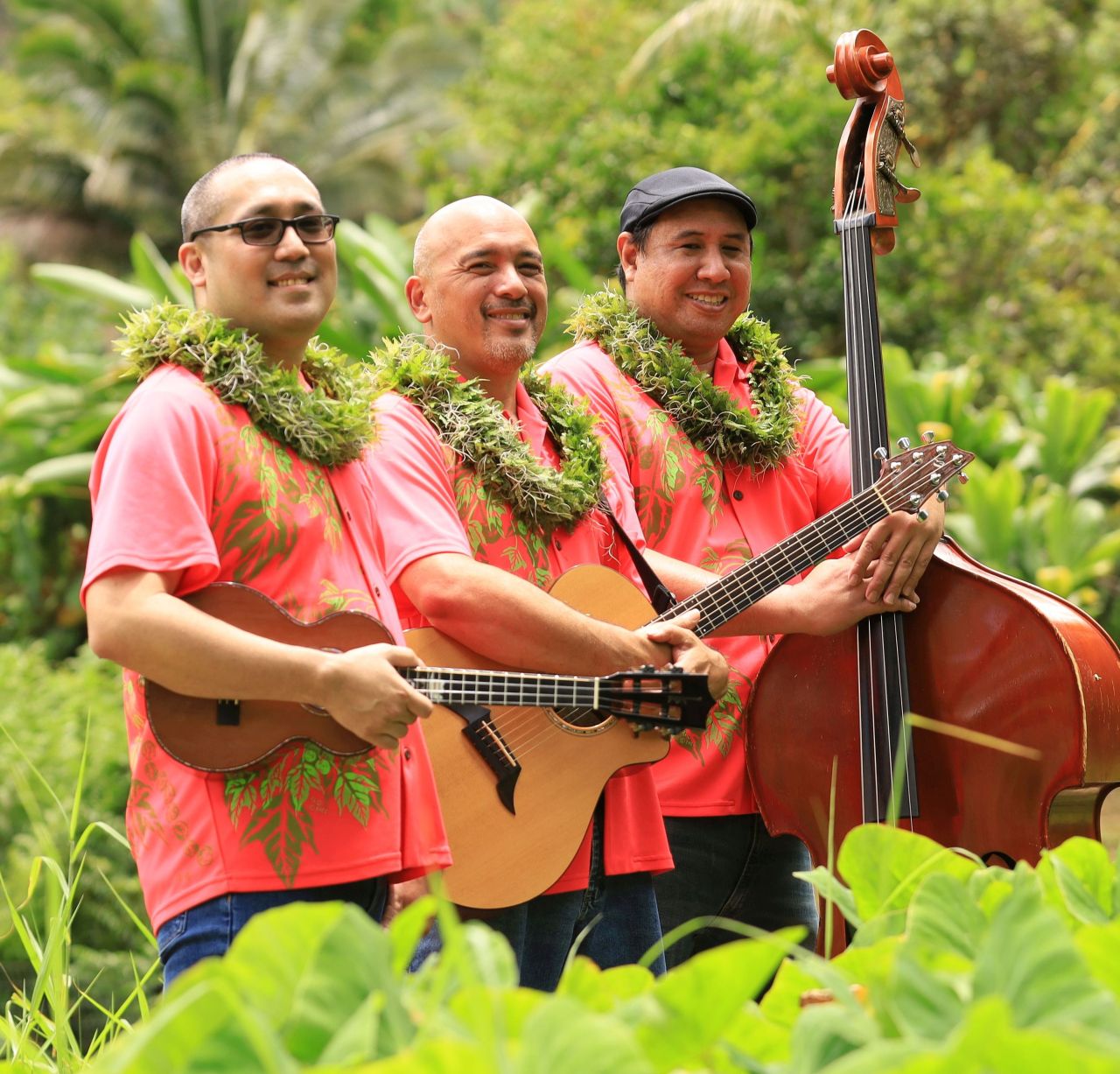 Waipuna
Bold new sound of Hawaiian music!
"The men of Waipuna have once again created a recording that honors the Hawaiian language and displays the art of Hawaiian poetry in song. " –KKCR
"The symphonic blends of Waipuna… are so melodic, they sooth the soul and fuel your mana [divine power]!" –Hawaiian 105 KINE Radio
Celebrating 15 years at the forefront of Hawaiian contemporary music, Waipuna is an exciting collaboration of three talented individuals from celebrated Hawaiian musical families. Waipuna consistently wins Na Hōkū Hanohano (Hawai'i's "Grammys") Awards every time they have a new album, from 2012 to the present, for a total 8 awards. Their 7th album Uluwehi will be released in 2023.
Kale Hannahs is a veteran of the music scene, earning a reputation as a steady bass player and vocalist. His major in Hawaiian Studies finds voice in his songs. He was a founding member of the award winning group 'Ale'a. Matthew Kawiaola Sproat was born and raised on O'ahu, but is from the famous Sproat family from the Big Island. In 2003 Matt won the Big Island falsetto competition, and has both studied and performed with some of the best musicians in Hawai'i. David Kamakahi, whose renowned father Dennis Kamakahi was one of Hawaii's most prolific songwriters, started playing 'ukulele at the age of 15, studying the greats, such as 'ukulele master and mentor Eddie Kamae. His clear natural talent shines through in his exceptionally clean technique and exhilarating playing.
Their eclectic musical backgrounds and gorgeous vocal harmonies have led to their unique sound that draws comparisons to their name, "waipuna", or spring waters – resource, life force, connecting to ancestors and nurturing generations to come. One critic has dubbed their distinctive sound "neo-traditionalist" – authentic roots with a contemporary energy, sensibility, and joy. They bring a fresh and contemporary energy to Hawaiian classics and to the island sound, preserving tradition while moving it into the 21st century. Hawaiian heritage is thriving, and Waipuna reflects both the traditions passed forward from the previous generations and the transformations that keep culture alive for the generations to come.
Past Tours Dates
2023
Sun Sep 24, The Sofia, Sacramento CA
presented by SBL Entertainment 
Tue Sep 26, Private Event, Ripon CA
2022
Thurs July 21, 2022, Lake Meridian Park, City of Kent, WA

Tue July 26, 2022, Open Space, Vashon Island WA

Wed July 27, 2022, Alberta Rose Theatre, Portland OR

Thurs, July 28, 2022 – Kenmore Summer Concert Series, Kenmore WA
Mon, May 16, 2022 – Dakota Jazz Club, Minneapolis MN
Wed, May 18, 2022 – Old Town School of Folk Music, Chicago IL
Thurs, May 19, 2022 – The Ark, Ann Arbor MI
Fri, May 20, 2022 – The Westin Kansas City at Crown Center, Kansas City MO
Showcase – Folk Alliance International Conference
Sun, May 22, 2022 – Blue Note Napa, Napa CA

Sat, April 9, 2022 – Water Street Plaza Amphitheater, Henderson NV
Presented by the City of Henderson
Sat, April 16, 2022 – Irvine Barclay Theatre, Irvine CA
2020
Sat, Feb 8, 2020, Pacific University, Forest Grove OR

Sun, Feb 9, 2020, Cal Poly Arts, San Luis Obispo CA

Wed, Feb 12, 2020, Freight & Salvage Coffeehouse, Berkeley CA
With Kaumakaiwa Kanaka'ole & Shawn Pimental

Thurs, Feb 13, 2020, Montalvo Arts Center, Saratoga CA

Sun, Feb 16, 2020, The Sofia, Sacramento CA
presented by SBL Entertainment

Thurs, March 12, 2020, The John G Shedd Institute for the Arts, Eugene OR
2018
Thurs, Feb 1, 2018, 142 Throckmorton Theatre, Mill Valley CA
Fri, Feb 2, 2018, Blue Note Napa, Napa CA
Sat, Feb 3, 2018, Pilgrim Congregational Church, Redding CA
Tribute to Dennis Kamakahi
AWARD-WINNING PERFORMERS FROM HAWAI'I AND THE PACIFIC