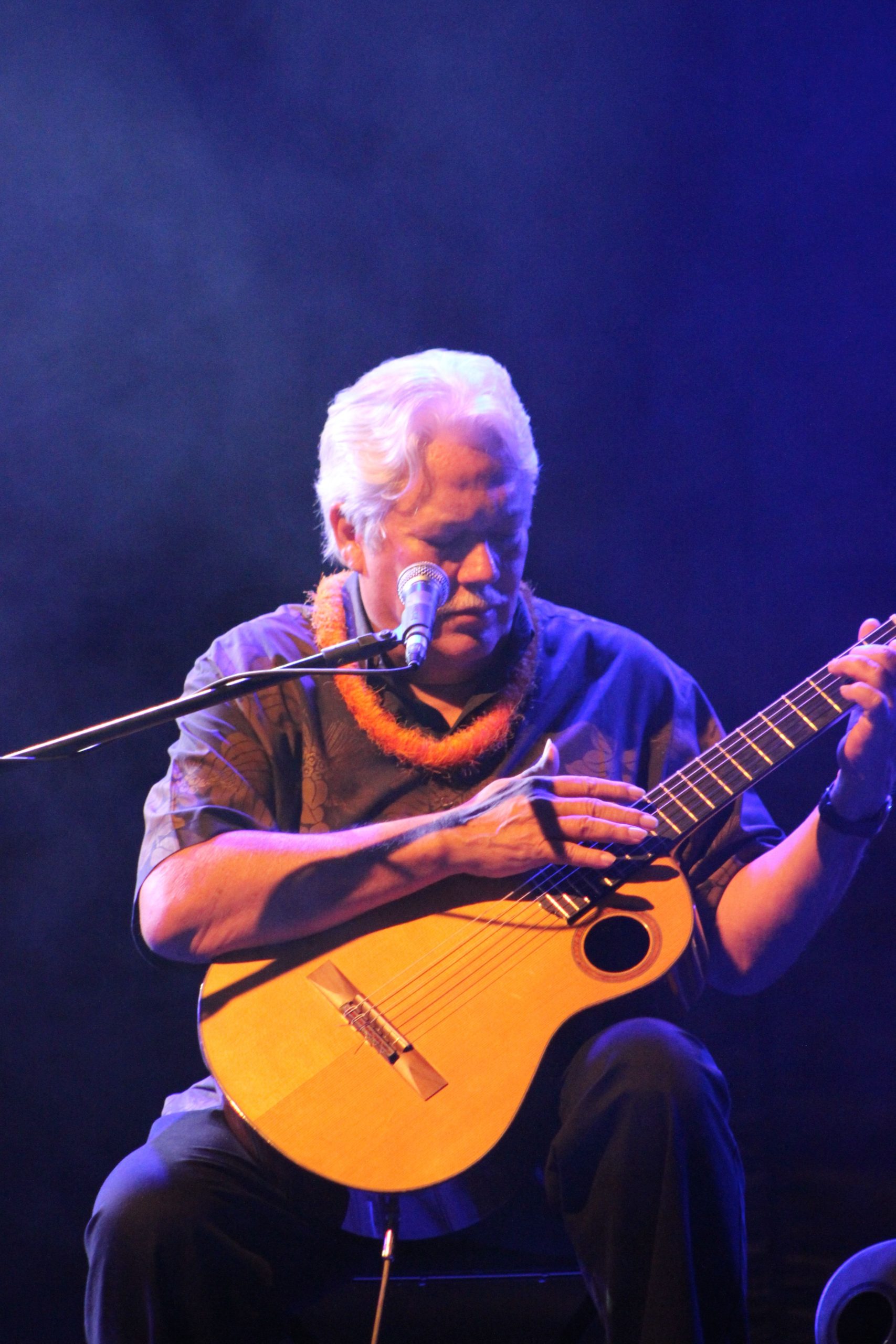 Photos: Michael Fish, Paul Rockover
Keola Beamer, with Moanalani Beamer
"Keola Beamer's style is the best there is on the planet…There's no better slack key player than Beamer" – Willie Nelson
"The Quintessential Hawaiian Slack-Key Guitar Master" —The New York Times
"He's an exceptional musician, a very good player and beautiful singer. He'll bring the spirit of the island to the concert." – Paul Simon
Keola Beamer is a Hawaiian music legend. Having grown up in one of Hawai'i's most famous music families, he has become one of Hawai'i's premier singer-songwriters, arrangers, composers and masters of Hawaiian slack key guitar.
A multiple Nā Hōkū Hanohano Award Winner (Hawaiian Music Awards) and Lifetime Achievement Award Recipient and a Grammy nominee, Keola established himself early as a leader in contemporary Hawaiian music with Honolulu City Lights, one of the all-time best-selling records in Hawaiian music history. Keola Beamer was awarded the prestigious Native Arts & Cultures Foundation Artist Fellowship in 2014, and in 2018, was inducted into the Hawaiian Music Hall of Fame with his illustrious musical family, the Beamer 'Ohana.
For over thirty years, his artistry has helped breathe new life into slack key guitar music while remaining true to the soul of its deeply Hawaiian roots. His breadth of talent springs from five generations of family musical history that traces its involvement in Hawaiian music and hula at least as far as back as the 15th Century; his mother a key figure in the "Hawaiian Renaissance" of the 1960s. Among multiple TV and film credits, his music was featured on the soundtrack for the film The Descendants.
"Keola Beamer is the Andres Segovia of the slack key guitar." – Long Beach Press-Telegram
Keola was one of the first to use slack key techniques to create contemporary music that is as much at home in jazz or classical forums as in Hawaiian music. And he was one of the first to integrate Hawaiian chants and instruments, like the tiny gourd whistle and the nose flute, with contemporary forms of music. His wife Moanalani Beamer joins him in performing hula as well as chants and traditional Hawaiian instruments.
Tour Schedule
2024
Legends: Keola Beamer and Henry Kapono, with Moanalani Beamer
Sat, Jan 27, 2024, Kirkland Performance Center, Kirkland WA
8:00 PM
Ticket Link
Sun, Jan 28, 2024, Aladdin Theater, Portland OR
Presented by True West Presents
8:00 PM
Ticket link
Thurs, Feb 1, 2024, Freight & Salvage Coffeehouse, Berkeley CA
8:00 PM
Ticket LInk
Fri, Feb 2, 2024, Musical Instrument Museum, Phoenix AZ
7:30 PM
Ticket Link
Past Tour Dates
Sat, Oct 14, 2023, Sheraton Waikiki, Honolulu HI
Guest Artist – Hawai'i Symphony Orchestra Gala


January 2023 – Legends: Keola Beamer & Henry Kapono, with Moanalani Beamer, hula
Fri, Jan 13, 2023 – Irvine Barclay Theatre, Irvine CA 
Sat, Jan 14, 2023 – The Smith Center for the Performing Arts, Las Vegas NV
Tues, Jan 17, 2023 – The Triple Door, Seattle WA
Wed, Jan 18, 2023 – Aladdin Theater, Portland OR
Presented by True West Presents
Thurs, Jan 19, 2023 – Freight & Salvage Coffeehouse, Berkeley CA
Fri, Jan 20, 2023 – The Sofia, Sacramento CA
Presented by SBL Entertainment
Sat, Jan 21, 2023 – The Tower Theatre, Bend OR
Presented by SBL Entertainment
Sun, Jan 22, 2023 – The Egyptian Theatre, Boise ID
Presented by SBL Entertainment
Thurs, Jan 26, 2023 – Musical Instrument Museum, Phoenix AZ
2022
Sat, Aug 27, 2022 – Kahilu Theatre, Kahilu HI

Keola Beamer & Jeff Peterson, with Moanalani Beamer, hula
Sat, May 7, 2022, Kaua'i HI
A benefit fundraiser for the Mokihana Club 
Legends: Keola Beamer & Henry Kapono, with Moanalani Beamer, hula
Fri Jan 14  Crest Theatre, Sacramento CA
Sat Jan 15  Montalvo Arts Center, Saratoga CA
Sun Jan 16  Cerritos Center for the Performing Arts, Cerritos CA
Thu Jan 20  Swallow Hill, Denver CO
Fri Jan 21  Musical Instrument Museum, Phoenix AZ
Sat Jan 22  Egyptian Theatre, Boise ID
Sun Jan 23  Tower Theatre, Bend OR
Wed Jan 26  The Shedd, Eugene OR
Thu Jan 27  Aladdin Theater, Portland OR

Fri Jan 28  Bing Crosby Theatre, Spokane WA

2020 
Keola Beamer & Henry Kapono with Moanalani Beamer
Thurs, Jan 23, 2020, California Center for the Arts, Escondido CA
Fri, Jan 24 and Sat, Jan 25, 2020, The Smith Center for the Performing Arts, Las Vegas NV
Sun, Jan 26, 2020, Daniels Hall, Denver CO
Presented by Swallow Hill Music

Tues, Jan 28, 2020, Musical Instrument Museum, Phoenix AZ

Thurs, Jan 30, 2020, Luther Burbank Center for the Arts, Santa Rosa CA
Sat, Feb 1, 2020, Aladdin Theater, Portland OR
Presented by True West Presents

Sun, Feb 2, 2020, Freight & Salvage Coffeehouse, Berkeley CA
With Moanalani Beamer
Fri, Feb 7, 2020, Irvine Barclay Theatre, Irvine CA
Sun, Feb 23, 2020, Maui Arts & Cultural Center, Kahului HI
Guest Artist with Maui Pops Orchestra

2019
Keola Beamer & Jeff Peterson with Moanalani Beamer
Sun, Jan 12, 2020, Harris Center for the Arts, Folsom CA
Tues, Jan 14, 2020, The Triple Door, Seattle WA
Thurs, Jan 16, 2020, Lincoln Theatre, Mt Vernon WA
Mon, Oct 14, 2019, Alberta Rose Theatre, Portland OR
Thurs, Oct 17, 2019, Kirkland Performing Arts Center, Kirkland WA
Sat, March 9, 2019, Mokihana Club Fundraising Benefit, Kauai Beach Resort, Lihue, Kauai HI
2018
Mon, Oct 8, 2018, The Hult Center for the Performing Arts, Eugene OR
Arts Northwest Juried Showcase 
Tues, Oct 9, 2018, Alberta Rose Theatre, Portland OR
Sun, Oct 14, 2018, Columbia City Theater, Seattle WA
Presented by Brown Rock LLC

Thurs, Oct 18, 2018, Harris Center for the Arts, Folsom CA
Sat, Oct 20, 2018, The Old Steeple, Ferndale CA
Presented by Ferndale Music Company

Sun, Oct 21, 2018, Blue Note Napa, Napa CA
Wed, Oct 24, 2018, Musical Instrument Museum, Phoenix AZ
Fri, Oct 26, 2018, Daniels Hall, Denver CO
Presented by Swallow Hill Music
Waipi'o Paka'alana
with Moanalani Beamer, R Carlos Nakai & Calvin Hoe
AWARD-WINNING PERFORMERS FROM HAWAI'I AND THE PACIFIC