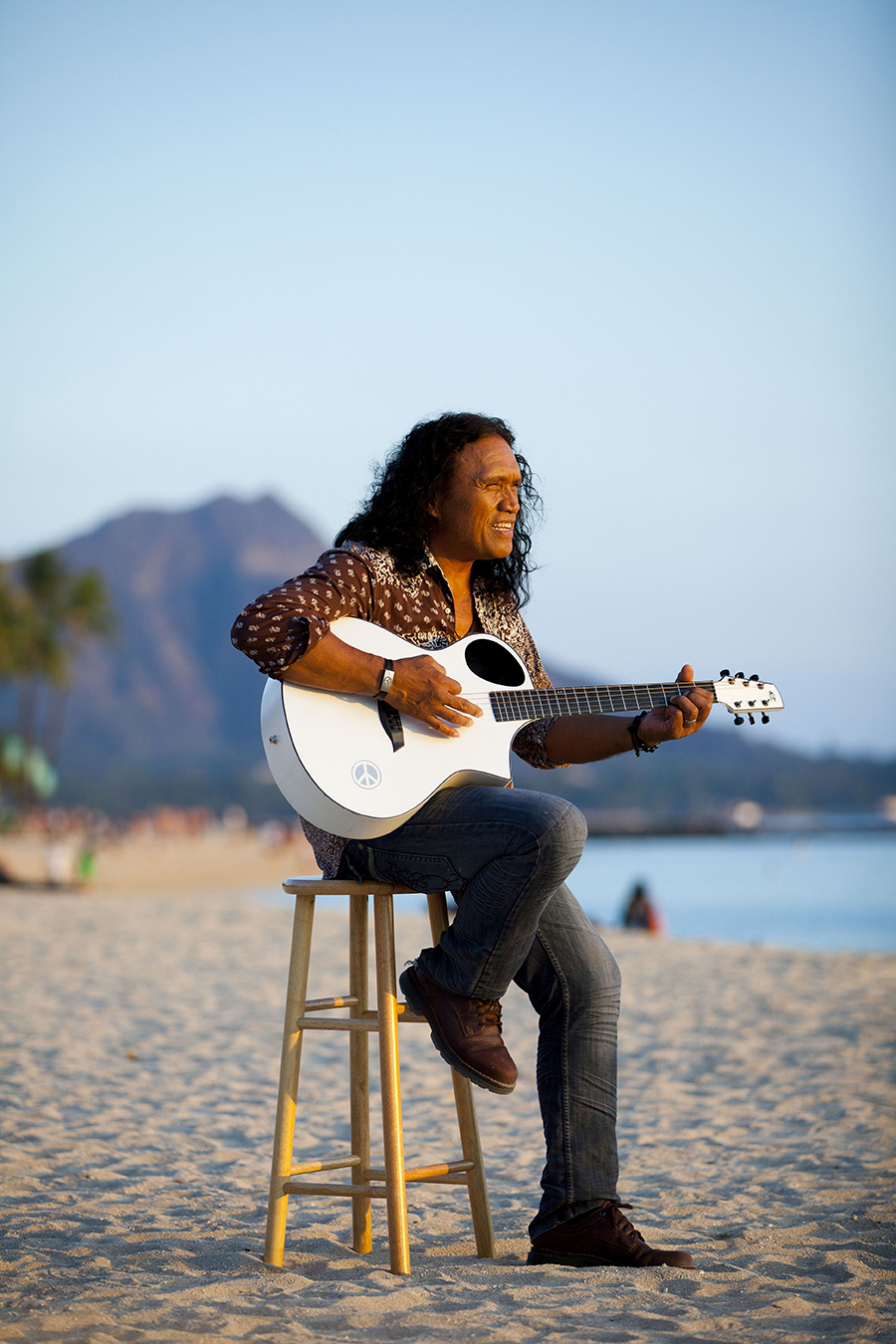 Henry Kapono
"Kapono is one of the great island songwriters of his generation." –Honolulu Star-Advertiser
Henry Kapono is a performer who has it all – vocalist, guitarist, songwriter, composer, thrilling performer, audience favorite—and multiple honors and awards, including a Grammy nomination. He has taken home 14 Na Hoku Hanohano Awards (Hawaii's "Grammy") including Male Vocalist of the Year, Song of the Year, Single of the Year, Album of the Year, Rock Album of the Year, and Lifetime Achievement. He was inducted into the Grammy Museum in 2017
His original songs with a rock vibe celebrate his love for his family, express his pride in his Hawaiian culture, and share his joy in his home in the Islands! He has been at the creative forefront of contemporary Hawaiian music throughout his career – from the laid-back island rock of Cecilio & Kapono in the 1970s and 80s, to launching his solo career that produced 17 albums and a world-wide fan base, to his groundbreaking collaborations that fused the power of Hawaiian traditions with driving rock rhythms and a soundtrack for the new century.
"Cecilio and Kapono were Hawaii's answer to Simon and Garfunkel…for several generations of listeners, those songs embody the sound of Hawaii, at least in part." —New York Times
The simple honesty of his lyrics and music touch the soul, his wildly talented guitar-playing shares his joy in being alive, and the gift of an evocative, plaintive balladeer's voice haunts you long after he leaves the stage.
"If [my music] makes you dance then do it. If it makes you sing then sing it. If it makes you want to know more about Hawai'i's culture then….Welcome To My Paradise!" – Henry Kapono
Tour Schedule
With Keola Beamer and Moanalani Beamer
January-February 2020 
Thurs, Jan 23, 2020, California Center for the Arts, Escondido CA
7:30 PM
artcenter.org/event/keola-beamer-henry-kapono/
Fri, Jan 24 and Sat, Jan 25, 2020, The Smith Center for the Performing Arts, Las Vegas NV
7:00 PM both nights
https://www.thesmithcenter.com/event/legends-beamer-kapono-with-beamer/
Sun, Jan 26, 2020, Denver CO
Tues, Jan 28, 2020, Phoenix AZ
Thurs, Jan 30, 2020, Luther Burbank Center for the Arts, Santa Rosa CA
8:00 PM
https://lutherburbankcenter.org/event/lbc-presents-legends-keola-beamer-henry-kapono/
Sat, Feb 1, 2020, Aladdin Theater, Portland OR
Presented by True West Presents
8:00 PM
https://www.ticketfly.com/purchase/event/1873371?q=ed3f673d-dd58-4486-b1b4-fe917c3b519d&p=2339ca39-9b96-44f9-b911-1990409ed4a9&ts=1564184218&c=ticketfly&e=00971&rt=Safetynet&h=e489cdacd9e1837f96561ae7469a2be8
Sun, Feb 2, 2020, Berkeley CA
Past Tour Dates
2019
Fri, July 19, 2019, The Coach House, San Juan Capistrano CA
With the "Dukes on Sunday" Band
Thurs, Mar 21, 2019, Irvine Barclay Theater, Irvine CA

Fri, Mar 22, 2019, Yoshi's Oakland, Oakland CA

Sat, Mar 23, 2019, The Sofia, Sacramento CA
Presented by SBL Entertainment
Sun, Mar 24, 2019, Montalvo Arts Center, Saratoga CA

2018
Henry Kapono "Welcome 2 My Paradise!"
Featuring Henry's "Dukes on Sunday" band and guest artist Johnny Valentine!
Showcasing all the classics plus songs from Henry's new CD  WELCOME 2 MY PARADISE!
 Thurs, July 12, 2018, Daniels Hall, Denver CO
Presented by Swallow Hill Music
Thurs, July 26, 2018, Belly Up Tavern, Solana Beach, CA
Fri, July 27, 2018, The Coach House, San Juan Capistrano, CA
Sun, July 29, 2018, Musical Instrument Museum (MIM), Phoenix AZ
Wed, Oct 10, 2018, Regattabar, Cambridge MA
Sun, Oct 14, 2018, The Bitter End, New York NY
Presented by CEG & T Presents
Tues, Oct 16, 2018, Dakota Jazz Club & Restaurant, Minneapolis MN
Thurs, Oct 18, 2018, Old Town School of Folk Music, Chicago IL
With Special Guest Johnny Valentine – Showcasing all the classics plus songs from Henry's new CD  WELCOME 2 MY PARADISE!
Sat, July 14, 2018, Kanbar Center for the Performing Arts, San Rafael, CA
Summer Nights Music Festival – Presented by Osher Marin Jewish Community Center
Sun, July 15, 2018, Blue Note Napa, Napa, CA
Tues, July 17 and Wed, July 18, 2018, Jazz Alley Seattle, Seattle, WA
Sun, July 22, 2018, Aladdin Theater, Portland, OR
Wed, July 25, 2018, SOhO Restaurant and Music Club, Santa Barbara, CA
Wed, Oct 10, 2018, Regattabar, Cambridge MA
Sun, Oct 14, 2018, The Bitter End, New York NY
Presented by CEG & T Presents
Tues, Oct 16, 2018, Dakota Jazz Club & Restaurant, Minneapolis MN
Thurs, Oct 18, 2018, Old Town School of Folk Music, Chicago IL
2018 – Legends: Keola Beamer and Henry Kapono
Thurs, Jan 11, 2018, The John G Shedd Institute, Eugene OR
Fri, Jan 12, 2018, The Triple Door, Seattle WA
Sat, Jan 13, 2018, Aladdin Theater, Portland OR
Sat, Jan 20, 2018, The Smith Center for the Performing Arts, Las Vegas NV
Sun, Jan 21, 2018, Daniels Hall, Denver CO
Mon, Jan 22, 2018, Musical Instrument Museum, Phoenix AZ
Wed, Jan 24, 2018, Freight and Salvage Coffeehouse, Berkeley CA
Thurs, Jan 25, 2018, Harris Center for the Arts, Folsom CA
Fri, Jan 26, 2018, Blue Note Napa, Napa CA
Sat, Jan 27, 2018, Montalvo Arts Center, Saratoga CA
Sun, Jan 28, 2018, Cal Poly Arts, San Luis Obispo CA
Thurs, Feb 1, 2018, The Eli & Edythe Broad Stage, Santa Monica CA
Fri, Mar 30, 2018, Artist to Artist, Maui Arts & Cultural Center, Kahului HI
2017 – Legends: Keola Beamer and Henry Kapono
Thurs, Sept 14, 2017, Blue Note Hawai'I, Honolulu HI
Thurs, Oct 10, 2017, Valdez Civic Center,  Valdez AK
Fri, Oct 13, 2017, Discovery Theater, Anchorage AK
AWARD-WINNING PERFORMERS FROM HAWAI'I AND THE PACIFIC