Our Services
Booking Agency: An extensive network of contacts with presenters across the country, as well as throughout the performing arts field, gives Pasifika Artists Network a distinct advantage as the artist's representative in negotiating performance bookings and national/international performance tours.
Arts Management Consulting: With nearly 30 years of arts management experience, Karen Fischer offers consulting services in the performing arts with a focus on the not-for-profit sector, including program development and management, organizational management, fundraising, budgeting and finance, marketing, touring logistics, and other aspects in the business of the arts.
Program Curation: Pasifika Artists Network offers extensive experience in program development, and "ala carte" services to venues seeking to create or expand institutional presentations. Services that may be contracted include areas of program development for performing arts seasons large or small, or single events; negotiating contracts; and working with local staff on marketing and connecting with the community input, engagement, and participation.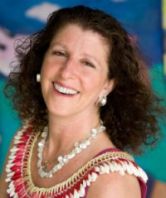 Karen A. Fischer – Bio
Karen A. Fischer, President, brings over 35 years of arts management experience to Pasifika Artists Network LLC, which represents performers with roots in the unique cultures and aesthetics of Hawai'i, Aotearoa (New Zealand) and other areas of the Pacific region. The Pasifika roster reflects both traditional and contemporary performing arts in music, dance, theater, and spoken word.
Prior to launching her agency in 2009, she was President & CEO of the Maui Arts & Cultural Center, managing a 22-acre multi-disciplinary arts center of three theaters, an art gallery, a pā (traditional hula stage), dance studios, meeting rooms, offices, and a staff of 48. Karen was the driving force behind performing arts programming at the Maui Arts & Cultural Center, where she established the MACC's multi-disciplinary presenting program and ran it for over ten years. Among her other achievements, she oversaw fundraising that more than doubled during her tenure, integrated IT systems, reorganized financial reporting, and upgraded marketing and community engagement efforts.
Karen came to the MACC from Cal Performances, University of California, Berkeley, a university-based presenter of a wide range of performing arts; Yerba Buena Center for the Arts, a multi-purpose visual and performing arts center in San Francisco; The Joffrey Ballet in New York and Los Angeles; and the Metropolitan Opera in New York. Karen earned an MBA in Arts Management from UCLA, and a J.D. from UC Berkeley, Boalt Hall.
Karen is active in the arts field; she is currently the Board Chair of the Association of Performing Arts Professionals (APAP), the national service, advocacy and membership organization for the field of performing arts, with a membership of 1,600 and which serves over 5,000 professionals in the performing arts. She also chaired the Executive Search Committee for APAP's new CEO. She is a member of the Western Arts Alliance (WAA), and sits on its Conference Committee; and NAPAMA (North American Performing Arts Managers and Agents). She also serves on the Board of the Academy of Hawaiian Culture, Music, and the Arts, and previously served on the board of the Maui Academy of Performing Arts.
She has served as vice-president and treasurer of the Western Arts Alliance (WAA), treasurer of the Performing Arts Presenters of Hawai'i, and vice-president of the Hawai'i Association of Music Societies. She has also served on peer review panels for the National Endowment for the Arts, State Foundation for Culture and the Arts, and the Hawai'i Tourism Authority. Her background includes clerking with Legal Aid Society of Hawai'i in Honolulu, and dancing with Aman Folk Ensemble in Los Angeles.
Pasifika Artists Network
During her years of booking artists, Karen often remarked that, with the rich tapestry of performing artists in Hawai'i and the Pacific, the time was right for developing greater touring opportunities for them. Sharing the unique and authentic arts of this region with more audiences is a win-win, gaining wider exposure for the artists and cultural specialists,  moving away from pervasive stereotypes, while enlivening audiences with the depth and richness of Pacific cultures and their contemporary arts. And so Pasifika Artists Network was born.
At the same time, with her wealth of experience in all aspects of the performing arts, particularly in not-for-profit institutions, Karen can provide expert and professional consulting services on all aspects of arts management, as well as program curation.
With aloha, a hui hou!
AWARD-WINNING PERFORMERS FROM HAWAI'I AND THE PACIFIC