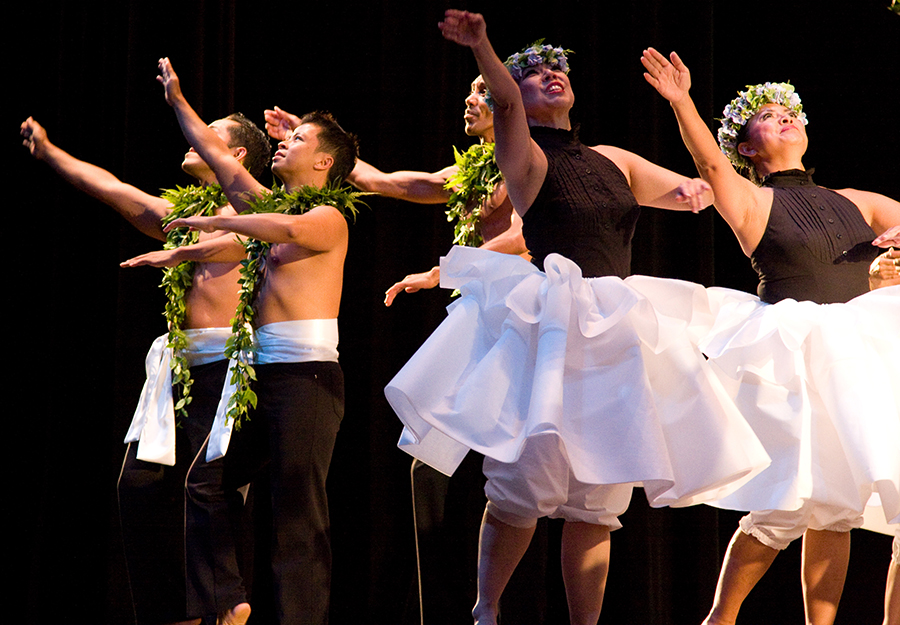 Hālau Hula Ka No'eau
Michael Pili Pang, kumu hula (hula master/artistic director)
"Pang approaches Hawaiian dance as an artistic, creative and educational endeavor, not simply as entertainment … their public performances are varied, polished and exciting." – East-West Center (Honolulu)
"For Hawaiians, studying and performing hula is a lifelong undertaking, requiring concentration, discipline, and constant practice." -Dance Magazine
"…the dancers give us a sense of journeying, of different landscapes and change of mood." –Village Voice
Award-winning Hālau Hula Ka No'eau is dedicated to performing traditional hula styles, particularly a dance style called hula ku'i that evolved from the teachings of late hula master Maiki Aiu Lake. A revered kumu hula from O'ahu, she was one of the leaders at the forefront of the Hawaiian renaissance, a movement that began in the 1960s to restore the knowledge of Hawaiian cultural traditions that had almost disappeared. Lake's styling captures the courtly dances of the Hawaiian Monarchy during the late 1800s. The Halau also affirms its roots in kahiko ("ancient") hula as well as more light-hearted 'auana ("modern") hula.
Today, hula has become the means to understand cultural protocol, history, spirituality, and a form of resistance and cultural identity to preserve and evolve traditions that have been endangered by the encroachment of western culture. The performances that share hula works that embody the spirituality of the Hawaiian people; explore the influence of westerners to the Islands; and serve as historical document through hula (dance), mele (lyrics) and ʻoli (chant), while offering emotionally stirring performances.
Pang notes that the company tours is to share Hawaii's "true culture. We're trying to bring as much of Hawai'i to the mainland as possible and not make it so commercialized. Because hula is tradition for us." He has also created excellent education programs.
Michael Pili Pang, founder, kumu hula (hula master), and artistic director of Hālau Hula Ka No'eau, studied under master artists Lake and Mae Klein and master chanter Pualani Kanaka'ole Kanahele. Performances feature the traditional styles of his "hula genealogy", and new choreographies. The company has won top honors at hula and chant competitions throughout Hawai'i.
Tour Schedule
2024
Wed, Feb 28, 2024, Luther Burbank Center for the Arts, Santa Rosa CA
7:30 PM
Ticket Link
Past Tour Dates
2018 – Sacred Dances
Tues, Apr 3, 2018, Bowker Auditorium, Amherst MA
Thurs, Apr 5, 2018, Weis Center for the Performing Arts, Bucknell University, Lewisburg PA
2017
Thurs, Feb 9, 2017, U Mass Amherst Fine Arts Center, Amherst MA
AWARD-WINNING PERFORMERS FROM HAWAI'I AND THE PACIFIC