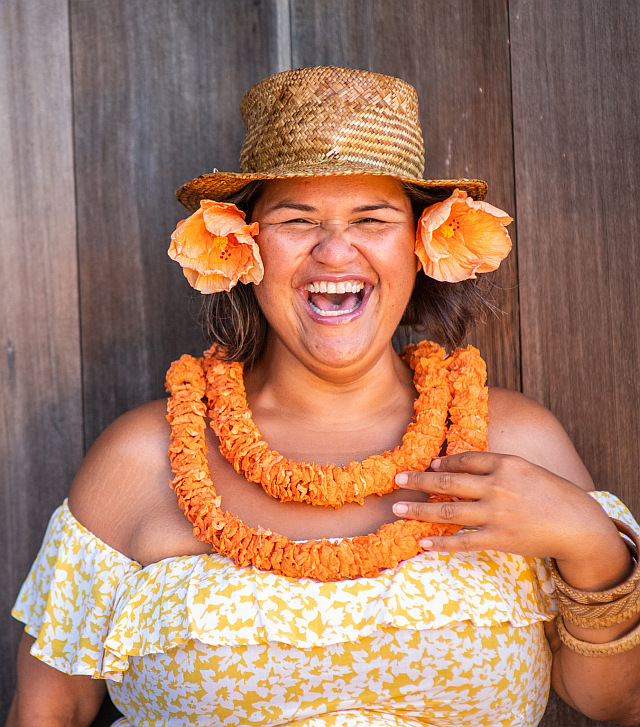 Photo: Sean Michael Hower
Paula Fuga
vocals & 'ukulele
"She possesses an uncommonly gorgeous voice and holds notes that wrap around a listener like a mother's embrace." — Variety
"Paula has an amazing strong voice that is melodic and sweet and paints the picture of island life" – AU Review
"Hawaiian Queen of Soul" — Maui News
Exquisite vocals, powerful lyrics and gorgeous melodies have earned Paula widespread critical praise and made her one of the most sought-after live performers in Hawai'i. She is a songwriter of depth and passion, praised for her intense emotion with a personal style that resonates deeply with audiences around the world. It is almost impossible to peg her into a single music genre. With a beautiful disposition, sweet island vibes, R&B, and Jawaiian roots reggae in the mix, her music has been called modern Hawaiian soul.
Her first release Lilikoi earned her the Na Hoku Award (Hawai'i's "Grammy") for Most Promising Artist of the Year. Her music has continued to blend tradition, innovation, and originality, featuring soul, reggae, and jazz–infused melodies, seamlessly mixing English and Hawaiian lyrics, with Paula on 'ukulele and backed by a 2-3 piece band.
In 2021, she signed with Jack Johnson's Brushfire record label, and released her first album under that label Rain On Sunday, featuring her single with Johnson and Ben Harper If Ever.
She has toured extensively with Jack Johnson, and recorded with reggae royalty Ziggy Marley – both are featured on her EP release Misery's End. Paula dedicates much of herself inspiring the youth in Hawai'i and across the world, sharing her story of perseverance and hope. In 2019, she was selected for a  coveted Juried Showcase spot at the Western Arts Alliance (WAA) conference. 
At an early age, she faced the vulnerabilities of living homeless in Hawai'i, seeing the destruction caused by drugs and violence. In middle school, Fuga began with poetry as a platform to express her experiences, and blossomed into a songwriter when she began playing 'ukulele in high school. She is one of four performers in Hawai'i (with Jake Shimabukuro, John Cruz, and Alfre Woodard) in the Turnaround Arts program of the Hawaii Arts Alliance in partnership with Kennedy Center in Washington DC.
Says Paula: "We want to take Hawaii to the world, show the aloha spirit to the world, loving and welcoming and inviting. We're all connected by one ocean, even though it has many names, we're all on this one earth."
Tour Schedule

2021
Sun Sep 19  Mauna Kea Resort presented by Kahilu Theatre, Kamuela (Waimea), HI, 7:00 PM. Kahilu-TV

Sat Oct 30  Discovery Theatre, Alaska Center, Anchorage AK, presented by Anchorage Concert Assoc, 7:30 PM
Tickets – Anchorage

Tue Nov 2  The Triple Door, Seattle  WA, 2 shows: 6:00 PM and 8:30 PM
Tickets – Seattle
Fri Nov 5  Argyros Performing Arts Center, presented by Sun Valley Museum of Art, Sun Valley ID. Ticket on-sale: Sep 7 to members, Sep 13 to general public.
Sat Nov 6  Egyptian Theatre, Boise ID (presented by SBL Entertainment)
Tickets – Boise (ticket on-sale Sep 7)
Sun Nov 7  The Bing Crosby Theatre, Spokane WA
Thurs Nov 11  Alberta Rose, Portland OR, 8:00 PM
Tickets – Portland
Fri Nov 12  Tower Theatre, Bend OR
Sun Nov 14  Denver CO
Past Tours Dates
2021
Fri July 16, Uncle Robert's, Pahoa HI
Fri-Sat July 30-31, Blue Note Hawai'i, Honolulu HI, 4 shows
2019
Fri, Sept 20, 2019, The Pacific Club, Honolulu HI
Eye Ball – benefit for Project Vision Hawai'i

Fri, Oct 4, 2019, King Kamehameha Golf Club, Wailuku HI
High Hopes benefit dinner – presented by Friends of the Children's Justice Center

 Sat, Oct 12, 2019, Private Event – Wailea HI
Tues, Sept 3, Harlow's Restaurant & Nightclub, Sacramento CA
with guest John Cruz
Sat, Sept 7, Sunset Cultural Center, Carmel-by-the-Sea CA
with guest John Cruz
Our Mission: Party! Sunset Center's 7th Annual Fundraiser

Sun, Aug 25, Music Box San Diego, San Diego CA
Tues, Aug 27, Juried Showcase, Western Art Alliance, Los Angeles CA
Wed, Aug 28, SOhO Restaurant & Music Club, Santa Barbara CA
Thurs, Aug 29, Saint Rocke, Hermosa Beach CA
Sat, Aug 31 AND Sun, Sept 1, Blue Note Napa, Napa CA
with John Cruz
Sat, July 13, 2019, Private Event – Lahaina HI
Sat, June 8, 2019, Private Event – Waialua HI
Fri, May 31, 2019, Surfer the Bar, Turtle Bay Resort, Kahuku HI
Sun, April 21, 2019, Byron Bay Bluesfest, Australia
with Jack Johnson
Sat, Mar 30, 2019, Arts for 'Aikahi Festival, 'Aikahi Elementary Field, Kailua HI
Sun, Mar 24, 2019, Waikiki Aquarium 115th Anniversary, Honolulu HI
Sun, Jan 6, 2019, East-West Center, Honolulu HI
Obama Foundation
2018
Fri, Nov 16, 2018, Sunset Cultural Center, Carmel-by-the-Sea CA
2017
Wed, Mar 15, 2017, Grand Opening – Hilton Grand Vacations, Honolulu HI
Sat, May 6, 2017, Makapu'u Twilight Concert Series, Sea Life Park, Waimanalo HI
Sat, Apr 26, 2017, Cutting Room, New York City, NY
Fri, Sept 8, 2017, Shangri-La Fest, Harmony Park, Clarks Grove MN
Sat, Sept 23, 2017, Kaua'i Humane Society Benefit, Kaua'i Marriott Resort, Lihue HI
 2016
 Mon-Sun, May 9-15, 2016, Walton Arts Center, Fayetteville AR
Lilikoi (Live Performance)
Too Hot Mama (HI Sessions)
Hokule'a Star of Gladness
PERFORMING ARTS TOURING FROM THE PACIFIC REGION