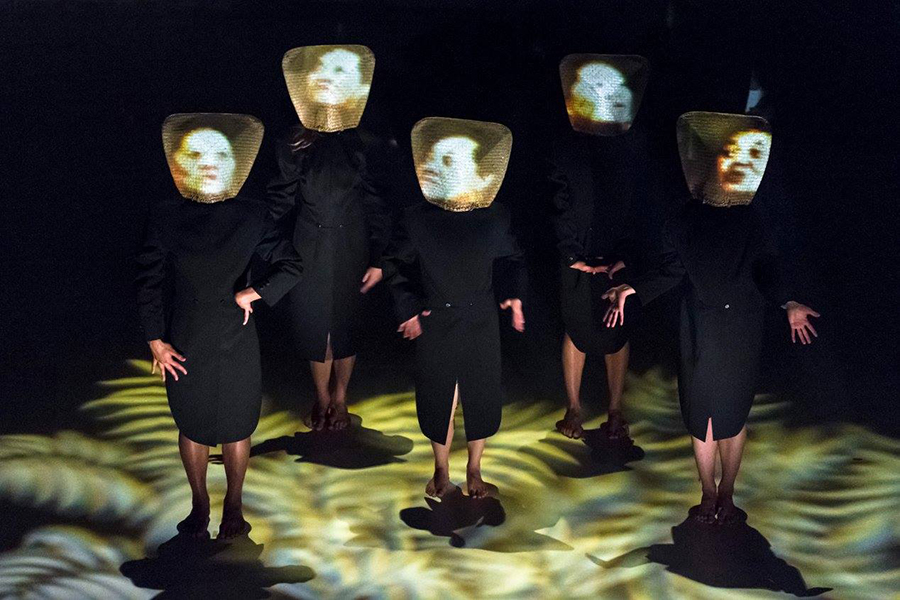 Cover Photo: Alex Efimoff
Okareka Dance Company 
(Aotearoa/New Zealand)
in Mana Wahine 
[Powerful Women]
"Okareka Dance Company has hit the jackpot with this exploration of the strength, the spirit, the wiles and primal beauty of woman, specifically Maori woman. Five extreme dancers, three choreographers at the top of their game, a totally in-tune composer, exquisite lighting and audio visual design and a wealth of cultural wisdom come together in one of the best contemporary dance performances we have seen in years" ––NZ Herald
"Mana Wahine is above all a rich fusion of choreography, music, tikanga Maori ["the Maori way"] and performance practices, AV, lighting and performance design … enriched and enlivened by the dancing of five powerhouse performers." – Theatreview
Mana Wahine [Powerful Woman] bursts upon the stage in a multi-media collage of powerful imagery and dance. Inspired by the historic true story of a young Maori heroine and informed by women's stories from the dancers' families, the work incorporates bold projections, chant, original music, traditional implements, and costuming that draws from Maori (the indigenous people of New Zealand) cultural traditions and history.
The courage, determination and fearlessness of the heroine fuels the choreographic style explored in this vibrant piece, and the stories of the dancers' matrilineal ancestors help create a thoroughly contemporary work, infused with traditional and historical motifs, that celebrates female endurance and strength.
Choreographers Taane Mete, Taiaroa Royal and Malia Johnston, inspired and guided by Maori elder Tui Matira Ranapiri-Ransfield (the chanter projected on the upstage screen), have created an enduring work that transcends cultures as it celebrates the power of women.
"Mana Wahine is an essential experience…an absolutely gorgeous work to watch, and it's one that will linger long afterwards." –Sam Brooks, NZ playwright and critic
Tour Schedule
Sun Mar 10, 2024 – Newman Center for the Performing Arts, Denver CO
2:00 pm
Ticket Link

Sat Mar 23, 2024 – ASU Gammage, Tempe AZ
7:00 pm
Ticket Link
Wed Mar 27, 2024 – McPherson Playhouse, Victoria BC Canada
7:30 pm
Ticket Link
Sat Mar 30, 2024 – Edmonds Center for the Performing Arts, Edmonds WA
7:30 pm
Ticket Link
AWARD-WINNING PERFORMERS FROM HAWAI'I AND THE PACIFIC