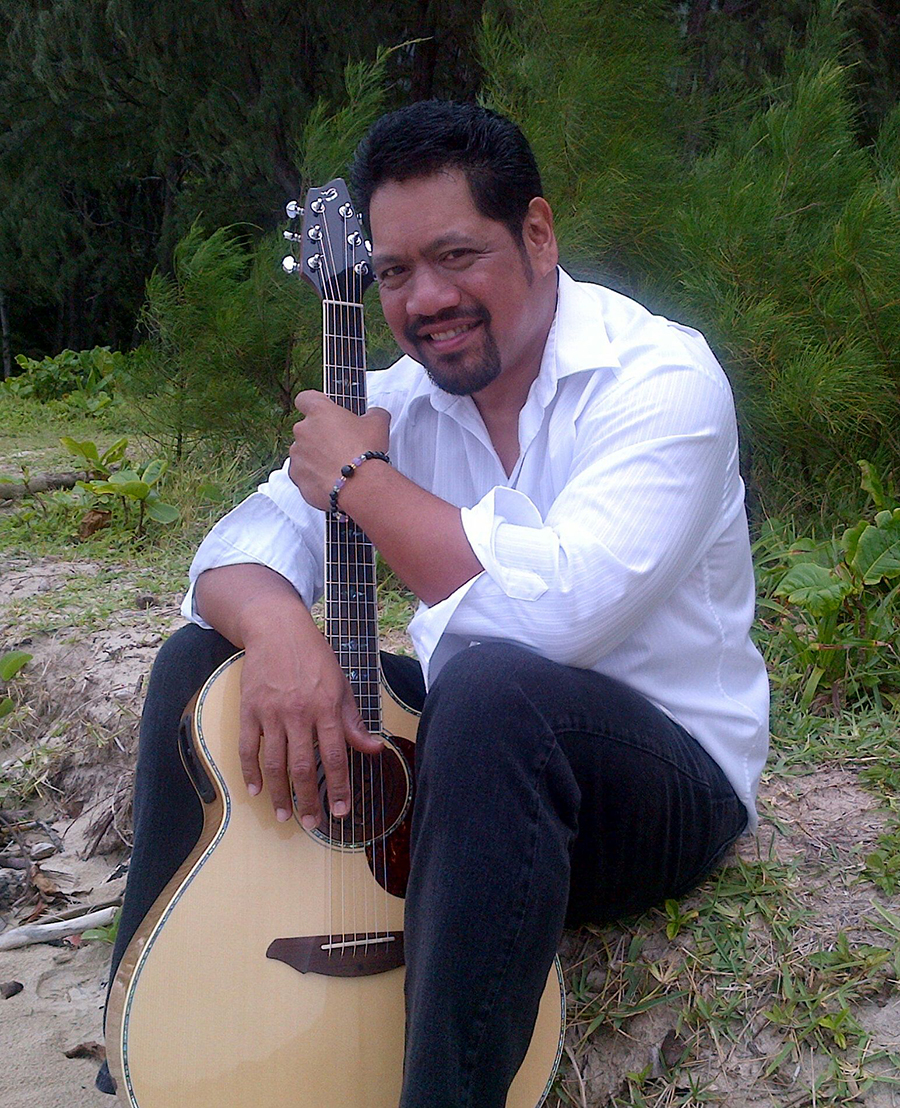 Cover photo: Shane Tegarden
Nathan Aweau
Vocals, bass, guitar
"Nathan is that distinguished rarity…A jack of all trades, master of an expansive domain." – Honolulu Advertiser
"Nathan… on electric bass and acoustic guitar, shows an… advanced understanding of harmony and orchestration …his singing style is effortless". –The New York Times
Winner of 9 Na Hoku (Hawai'i's "Grammy"), Nathan Aweau won Male Vocalist of the Year an unprecented 3 times, the only artist to have achieved this. Nathan Aweau is not only known for his beautiful vocals, but also for his musical prowess, particularly on the bass guitar, his favorite instrument (his Bass Etude album won Jazz Album of the Year honors in 2005). Often described as a musician's musician with an in-depth understanding of orchestration, Aweau is proficient on piano, guitar, 'ukulele, saxophone, percussion, and bass. He also writes, records, engineers, and produces all his own material. Much sought-after, he has performed with numerous musicians, was a member of the award-winning groups Ka'eo, the Ali'i's, and HAPA, and played with the legendary Don Ho for 16 years.
His exquisite vocals earned him his first Na Hoku "Male Vocalist" award for his debut CD and helped propel Hapa's CD "Maui" to the Top 10 on Billboard's World Music chart and three Na Hoku Hanohano Awards (Hawai'i's "Grammy"). Traditional Hawaiian music features "leo ki'eki'e" (male falsetto singing), "where the men kinda go up and sound like women," says Nathan, giving him a multi-octave range. For his 6 solo CDs to date, Aweau wrote and arranged every song, sang all vocals (including background), played every instrument, and recorded, engineered, mixed, and mastered it at his In My Bathroom Studios.
Aweau, who was classically trained, has run the gamut of styles, playing in jazz, funk, country and even metal bands, as well as Hawaiian ensembles. "So long as it was good music, I was always there," he says.
Past Tours Dates
2020 – Masters of Hawaiian Music – with George Kahumoku Jr & Jeff Peterson
Fri, Mar 6, 2020, Matthews Opera House & Arts Center, Spearfish SD
with George Kahumoku Jr
Sat, Mar 7, 2020, Daniels Hall, Denver CO
presented by Swallow Hill Music
Sun, Mar 8, 2020, Musical Instrument Museum, Phoenix AZ
Fri, Mar 13, 2020, The Guitar Sanctuary, McKinney TX

2019 – With Masters of Hawaiian Music: George Kahumoku Jr, Nathan Aweau  & Kawika Kahiapo
Tues, Feb 7, 2019, Dakota Jazz Club & Restaurant, Minneapolis MN
Sat, Feb 9, 2019, Old Town School of Music, Chicago IL
Wed, Feb 13, 2019, Cutting Room, New York NY

Fri, Feb 15, 2019, Club Passim, Cambridge MA
Sat & Sun, Feb 16 & 17, 2019, Wolf Trap Foundation for the Performing Arts, Vienna VA
Thurs, Feb 21, 2019, Bing Crosby Theater, Spokane WA
Fri & Sat, Feb 22 & 23, 2019, The Triple Door, Seattle WA
Tues, Feb 26, 2019, Lincoln Theatre, Mt Vernon WA
Wed, Feb 27, 2019, Alberta Rose Theatre, Portland OR
Thurs, Feb 28, 2019, The Egyptian Theatre, Boise ID
Sun, March 3, 2019, Humboldt State University – Center Arts, Arcata CA
Tues, March 5, 2019, Freight and Salvage Coffeehouse, Berkeley CA
Wed, March 6, 2019, Harris Center for the Arts, Folsom CA
Thurs, March 7, 2019, Blue Note Napa, Napa CA
Fri, March 8, 2019, Oshman Family Jewish Community Center, Palo Alto CA
Sun, March 10, 2019, Rio Theatre, Santa Cruz CA
Fri, March 15, 2019, California Center for the Arts, Escondido CA
Sat, March 16, 2019, Whittier College, Whittier CA
Thurs, March 21, 2019, Musical Instrument Museum, Phoenix AZ
Fri, March 22, 2019, South Broadway Cultural Center, Albuquerque NM
Sat, March 23, 2019, Daniels Hall, Denver CO
Sun, March 24, 2019, The Guitar Sanctuary, McKinney TX
Fri & Sat, March 29 & 30, 2019, The Smith Center for the Performing Arts, Las Vegas NV
Ku'u Lei Awapuhi/Hawai'i Aloha/Wahine 'Ilikea
AWARD-WINNING PERFORMERS FROM HAWAI'I AND THE PACIFIC