George Kahumoku Jr. & Masters of Hawaiian Music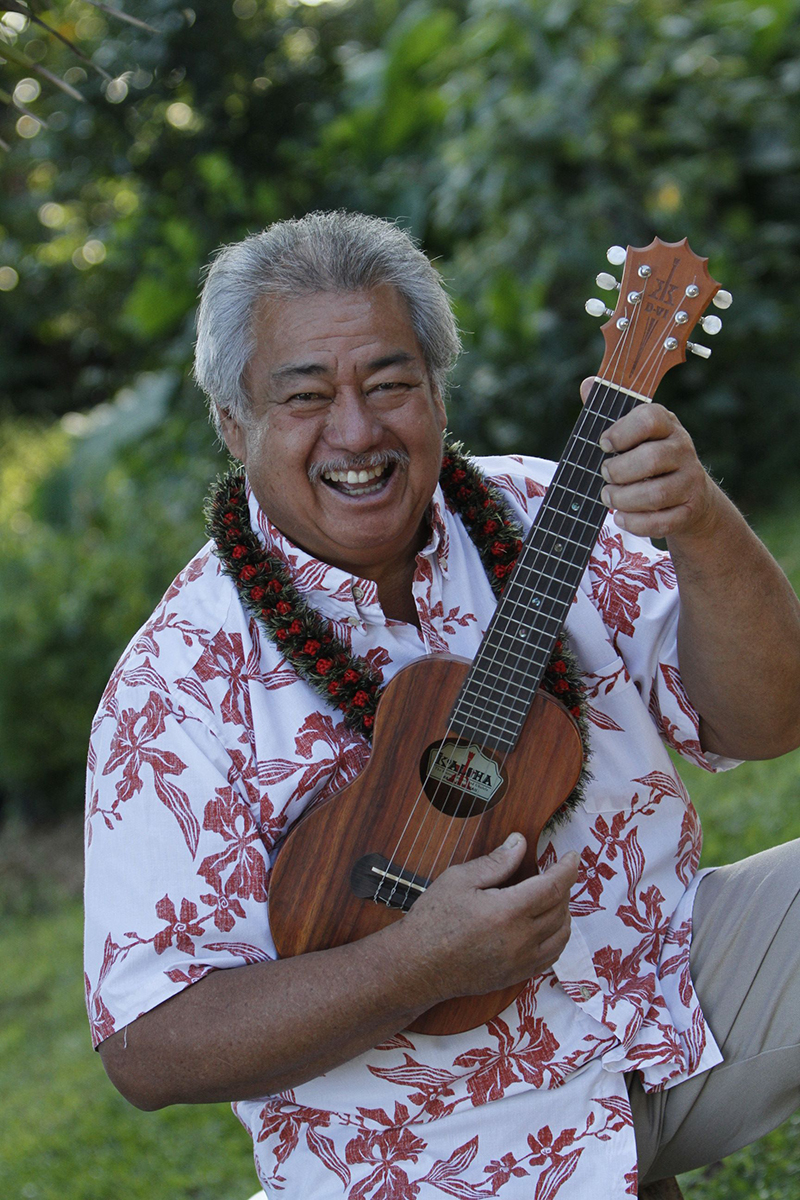 George Kahumoku Jr. & Masters of Hawaiian Music
"Kahumoku was an affable raconteur, mixing his dialogue with passionate renderings of material…" 
–LA Times
"…The vocals and slack-key wizardry of George Kahumoku … is as cleansing as a Sunday drive through God's country." — The Honolulu Advertiser
"… a master with the acoustic guitar. His music is played from his heart and soul through the very tips of his fingers." www.amzmusiczine.com
Four-time Grammy-winner, master slack key guitarist George Kahumoku Jr., known as "Hawai'i's Renaissance Man", is also a multiple Na Hōkū Hanohano (Hawaiian Grammy) Award winner, most recently for Best Christmas CD in 2017.
He is also a vocalist, storyteller, songwriter & author, world-traveling performer, as well as a teacher, –he founded the Hawaiian Music Institute at University of Hawai'i-Maui College –artist and sculptor, farmer, and chef (his farm to table). He is the producer and star of the long-running, weekly Slack Key Show® on Maui, which features the best of Hawaiian slack key and other leading music artists, now in its second decade.
His education programs and guitar workshops are superb. Curriculum guide available.
Masters of Hawaiian Music: George tours solo or with the finest artists from his renowned Slack Key Show®, to share the delightful experience of kī-hō'alu (slack key guitar) – the distinctly Hawaiian style of open tunings. Shows feature good music and good humor, Hawaiian cultural knowledge, and the down-home spirit of the islands. 
Upcoming Tours – Masters of Hawaiian Music
"Virtuosic keepers of a cultural flame…Bringing folklore & cultural memory into a performance that unfolded as breezy entertainment."  – The New York Times
Sept – Oct 2022 – George Kahumoku Jr,  Daniel Ho and Tia Carrere 
Feb – Mar 2023 – George Kahumoku Jr, Sonny Lim and Herb Ohta Jr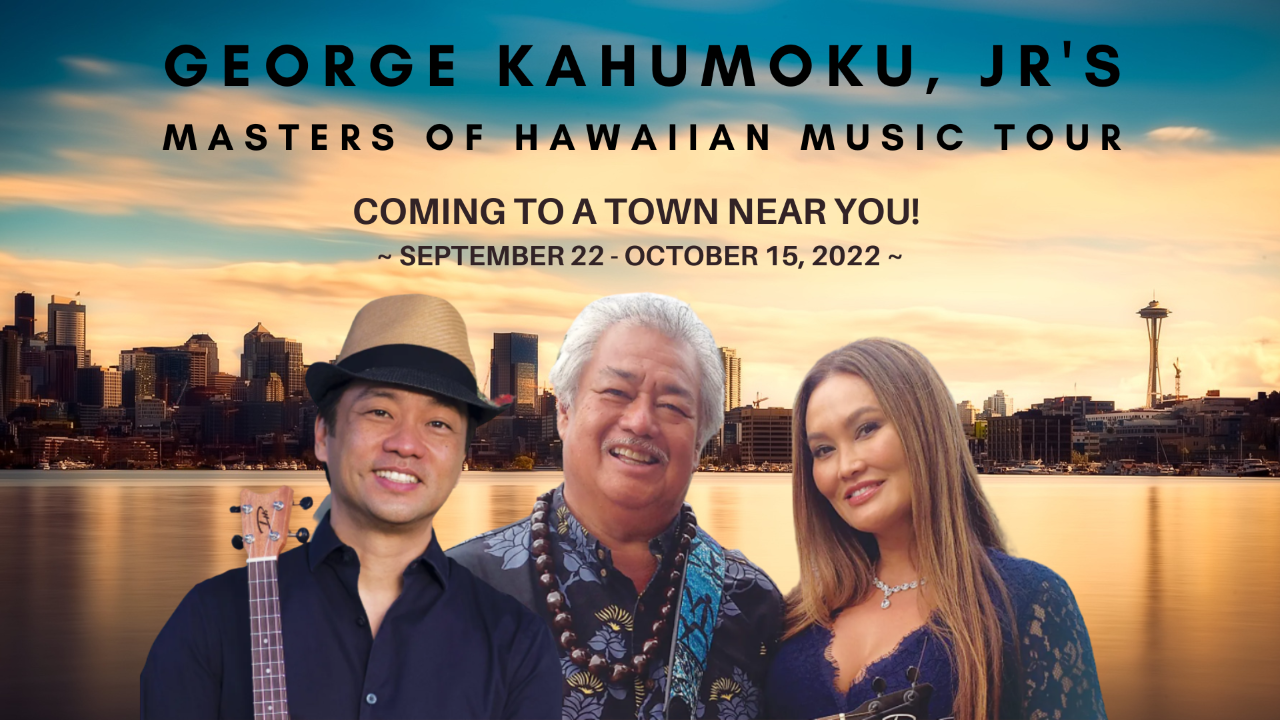 Tour Schedule

2022
 Masters of Hawaiian Music: George Kahumoku Jr, Daniel Ho, Tia Carrere
Sat, Sept 24, 2022 – Grand Theatre Center for the Arts, Tracy CA
8:00 pm
Ticket Link
Sun, Sept 25, 2022 – Blue Note Napa, Napa CA
2 shows: 4:00 pm and 7:00 pm
Ticket Link – SOLD OUT!
Wed, Sept 28, 2022 – Musical Instrument Museum, Phoenix AZ
7:00 PM
Ticket Link
Sun, Oct 2, 2022 – Lone Tree Arts Center, Lone Tree CO
7:00 pm
Ticket LInk
Mon Oct 3, 2022 – Alberta Rose, Portland OR
7:00 PM
Ticket Link
Tues, Oct 4, 2022 – The Triple Door, Seattle WA
7:30 pm
Ticket Link
Wed Oct 5, 2022 – Panida Theater, Sandpoint ID
Presented by POAC (Pend Oreille Arts Council)
7:30 PM
Ticket Link
Sat, Oct 15, 2022 – Irvine Barclay Theatre, Irvine CA
8:00 pm
Ticket LInk
Masters of Hawaiian Music: George Kahumoku Jr, Sonny Lim & Herb Ohta Jr
Sun, Mar 12, 2023 – California Center for the Arts, Escondido CA
3:30 pm
Ticket LInk
PLEASE check Covid policies for each venue
Past Tours Dates
Sat July 30, 2022 – Michael's on Main, Soquel CA

Sat, June 25, 2022 – ROCHESTERFEST, Rochester MN
with Peter DeAquino – Soldiers Field Park
March/April 2022: George Kahumoku Jr, Jeff Peterson, Sonny Lim
Thurs March 10, 2022 – Center for the Arts, Grass Valley CA
Fri, March 11, 2022 – The Historic Lobo Theater, Albuquerque NM
Sat, March 12, 2022 – New Mexico Museum of Art, Santa Fe NM
Wed, March 16, 2022 – Musical Instrument Museum, Phoenix AZ
Thurs, March 17, 2022 – Freight & Salvage Coffeehouse, Berkeley CA
Fri, March 18 & Sat, March 19, 2022 – The Smith Center for the Performing Arts,
Las Vegas NV
Sun, March 20, 2022 – Montalvo Arts Center, Saratoga CA
Wed, March 23, 2022 – Bing Crosby Theater, Spokane WA
Fri, March 25, 2022 – Kent-Meridian Performing Arts Center, Kent WA

Sat, March 26, 2022 – Edmonds Center for the Arts, Edmonds WA
Wed, March 30, 2022 – Alberta Rose Theatre, Portland OR
Thurs, March 31, 2022 – Tower Theatre, Bend OR
April 1, 2022 – The John G Shedd Institute, Eugene OR
Sun, April 3, 2022 – The Egyptian Theatre, Boise ID
January 2022 – George Kahumoku Jr, Led Kaapana & Herb Ohta Jr
Thu Jan 13, The Ark, Ann Arbor MI – Postponed
Fri Jan 14, Old Town School, Chicago IL
Sun Jan 16, Music Box Cleveland, Cleveland OH
Wed Jan 19, The Cutting Room, New York NY – George Kahumoku Jr & Herb Ohta Jr, with guest artist Andy Wang
Thu Jan 20, Wolf Trap Foundation for the Performing Arts, Vienna VA 
Sat Jan 22, Club Passim, Cambridge MA (2 shows)
Thu Jan 27, Dakota Jazz Club & Restaurant, Minneapolis MN – Postponed
Sat Jan 29, Lone Tree Arts Center, Lone Tree CO – Postponed to Fall 2022
Sun Jan 30,  Blue Note Napa, Napa CA (2 shows) – Postponed to Fall 2022
2020 – with Nathan Aweau & Jeff Peterson
Fri, Mar 6, 2020, Matthews Opera House & Arts Center, Spearfish SD
with Nathan Aweau
Sat, Mar 7, 2020, Daniels Hall, Denver CO
presented by Swallow Hill Music
Sun, Mar 8, 2020, Musical Instrument Museum, Phoenix AZ
Fri, Mar 13, 2020, The Guitar Sanctuary, McKinney TX

2020 – with Led Kaapana & Kawika Kahiapo
Fri, Jan 10, 2020, Cutting Room, New York NY
Presented by CEG Presents
Sat, Jan 11, 2020, St Paul's Episcopal Church, Chatham NJ
Presented by Andy Wang Music
Sun, Jan 12, 2020, Club Passim, Cambridge MA
Wed, Jan 15, 2020, Dakota Jazz Club and Restaurant, Minneapolis MN
Fri, Jan 17, 2020, Old Town School of Folk Music, Chicago IL
Sun, Jan 19, 2020, Music Box Cleveland,  Cleveland OH
Tues, Jan 21, 2020, The Ark, Ann Arbor MI
Fri, Jan 24, 2020 and Sat, Jan 25, 2020, Wolf Trap Foundation for the Performing Arts, Vienna VA
Spring 2019 –  Masters of Hawaiian Music: with Nathan Aweau  & Kawika Kahiapo
Tues, Feb 7, 2019, Dakota Jazz Club & Restaurant, Minneapolis MN
Sat, Feb 9, 2019, Old Town School of Music, Chicago IL
Wed, Feb 13, 2019, Cutting Room, New York NY
Fri, Feb 15, 2019, Club Passim, Cambridge MA
Sat & Sun, Feb 16 & 17, 2019, Wolf Trap Foundation for the Performing Arts, Vienna VA
Thurs, Feb 21, 2019, Bing Crosby Theater, Spokane WA
Fri & Sat, Feb 22 & 23, 2019, The Triple Door, Seattle WA
Tues, Feb 26, 2019, Lincoln Theatre, Mt Vernon WA
Wed, Feb 27, 2019, Alberta Rose Theatre, Portland OR
Thurs, Feb 28, 2019, The Egyptian Theatre, Boise ID
Sun, March 3, 2019, Humboldt State University – Center Arts, Arcata CA
Tues, March 5, 2019, Freight and Salvage Coffeehouse, Berkeley CA
Wed, March 6, 2019, Harris Center for the Arts, Folsom CA
Thurs, March 7, 2019, Blue Note Napa, Napa CA
Fri, March 8, 2019, Oshman Family Jewish Community Center, Palo Alto CA
Sun, March 10, 2019, Rio Theatre, Santa Cruz CA
Fri, March 15, 2019, California Center for the Arts, Escondido CA
Sat, March 16, 2019, Whittier College, Whittier CA
Thurs, March 21, 2019, Musical Instrument Museum, Phoenix AZ
Fri, March 22, 2019, South Broadway Cultural Center, Albuquerque NM
Sat, March 23, 2019, Daniels Hall, Denver CO
Sun, March 24, 2019, The Guitar Sanctuary, McKinney TX
Fri & Sat, March 29 & 30, 2019, The Smith Center for the Performing Arts, Las Vegas NV
2019
Thurs, July 25, Waikiki Aquarium, Honolulu HI
With Kawika Kahiapo
Ke Kani O Ke Kai 2019 Summer Concert Series

Mon, July 29, Michael's on Main Music, Soquel CA
2018 – Masters of Hawaiian Music: George Kahumoku Jr, Led Kaapana & Jeff Peterson
Sat, Feb 10 & Sun, Feb 11, 2018, Wolf Trap Foundation for the Performing Arts, Vienna VA
Mon, Feb 12, 2018, WaR3House3, Swarthmore PA
Thurs, Feb 15, 2018, Dakota Jazz Club and Restaurant, Minneapolis MN
Fri, Feb 16, 2018, Old Town School of Folk Music, Chicago IL
Sun, Feb 18, 2018, Music Box Cleveland, Cleveland OH
Fri, Feb 23, 2018, Café Stritch, San Jose CA
Wed, Feb 28, 2018, The John G Shedd Institute, Eugene OR
Fri, Mar 2 & Sat, Mar 3, 2018, The Triple Door, Seattle WA
Tues, Mar 6, 2018, The Sofia, Sacramento CA
Thurs, Mar 8, 2018, Rio Theatre, Santa Cruz CA
Fri, Mar 9 & Sat, Mar 10, 2018, The Smith Center for the Performing Arts, Las Vegas NV
Sun, Mar 11 & Mon, Mar 12, 2018, California Center for the Arts, Escondido CA
Thurs, Mar 15, 2018, Musical Instrument Museum, Phoenix AZ
Fri, Mar 16, 2018, Irvine Barclay Theater, Irvine CA
Sat, Mar 17, 2018, Daniels Hall, Denver CO
Sat, July 14, 2018, Island Fresh Café, Paia HI – Pele – Hawai'i's Force of Creation – Stories, Chants, Songs & Hula, with George Kahumoku Jr
Sun, Sept 9, 2018, Flynn's Cabaret and Steak House, Felton CA
Sat & Sun, Oct 27 & 28, 2018, New York Botanical Garden, New York NY
Georgia O'Keeffe Visions of Hawai'I Exhibit – Closing Weekend

Mon, Oct 29, 2018, Washington DC
Private event
2017
Mon, September 4, 2017, Harlow's, Sacramento, CA
Thurs, September 7, 2017, Don Quixote's International Music Hall, Felton, CA
Sun, September 10, 2017, Club Fox, Redwood City, CA
AWARD-WINNING PERFORMERS FROM HAWAI'I AND THE PACIFIC