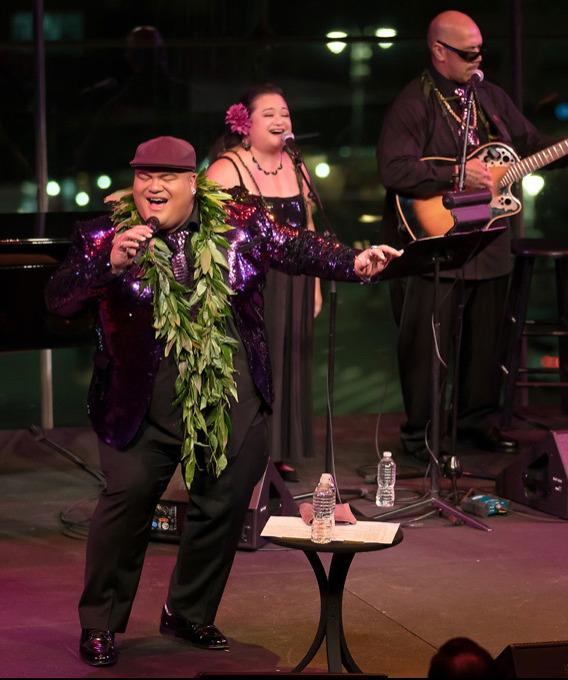 Cover Photo: Antonio Agosto
Photo: American Songbook, Lincoln Center
Kalani Pe'a
Singer/Songwriter
THREE-Time GRAMMY® AWARD WINNER – Regional Roots – 2022, 2019, 2017
"Gifted with a gorgeous voice and a flair for composing resonant Hawaiian songs, his debut album established him as a major, innovative figure in contemporary Hawaiian music." – Maui News
"Kalani Pe 'a holds an important place in the history of Hawaiian music… [His] third album…displays the depth and breadth of his talent as a vocalist and songwriter in vivid style."  — Honolulu Star-Advertiser
"One of Hawai'i's brightest new stars…His soulful voice showcases his many influences from classical, R&B, and soul, but his ʻike (Hawaiian knowledge) and love for our culture keeps it right where it needs to be" — Jaz Kaiwikoʻo, producer and radio personality
Kalani Pe'a's third and most recent release Kau Ka Pe'a garners his 3rd Grammy win in Regional Roots. He took home his 2nd Grammy Award in 2019 for his second CD No 'Ane'i [We Belong Here], a release that hit #1 on iTunes World Music Charts and #11 on Billboard's World Music Charts.
Kalani Pe'a's debut album E Walea gave him his first Grammy® Award for "Best Regional Roots Music Album" in 2017, followed by the 2017 Na Hoku Hanohano Award (Hawai'i's "Grammy) for
Best Hawaiian Contemporary Album, making Hawaiian music history as the only album to win both a Grammy and Na Hoku. E Walea also hit #1 on the iTunes World Music Charts and #12 on the Billboard World Albums Charts. He was honored by the Hawai'i State House of Representatives with an official proclamation in 2017: "It is vital that Native Hawaiian culture and the arts be perpetuated for future generations: Kalani Pe'a is a tourchbearer."
In February 2020, Kalani Pe'a made his New York debut to a sold-out audience, the first Hawaiian artist to perform in Lincoln Center's American Songbook. The year prior, he made his debut at the prestigious Merrie Monarch hula competition, singing one of his original songs for the hula group that went on to win the top honor. He is honored to be a WAA (Western Arts Alliance) Native Launchpad Artist, a program that aims to further the careers of U.S.-based indigenous artists. In May 2021, Kalani was selected as a featured artist for Spotify and Amazon Music campaigns during AAPI (Asian-American Pacific Islander) month, gracing billboards on over 120 transit shelters in New York and San Francisco, and was nominated for Folk Alliance International Artist of the Year in 2022. 
Self-described as "Hawaiian contemporary soul", Kalani Pe'a was awarded a prestigious Native Arts & Cultures Foundation Fellowship in 2018 and named an Artist in Business Leadership Fellow 2019 by the First Peoples Fund. With his passion for perpetuating Hawaiian language and culture, his music features his original and classic Hawaiian songs alongside his affectionate bilingual (Hawaiian/English) arrangements of his R&B favorites – a nod to the western music he grew up with. 
"Peʻa totally commits himself to every song and is able to deliver with much passion using his wide vocal range", noted Kalani's award-winning record producer Dave Tucciarone.
TOURS with 2-pc or 3-pc band (guitar, bass, backup vocals) 
Tour Schedule
2022
Thurs, Dec 1, 2022 – Edmonds Center for the Arts, Edmonds WA
7:30 pm
Ticket Link
Fri, Dec 2, 2022 – Reser Center for the Arts, Beaverton OR
7:30 pm
Ticket Link
Sun, Dec 4, 2022 – Freight & Salvage Coffeehouse, Berkeley CA
Christmas Show
7:00 PM
Ticket Link
Fri, Feb 3, 2023 – University of Utah, Salt Lake City UT
7:30 pm
Ticket LInk
Fri, Feb 10, 2023, Montalvo Arts Center, Saratoga CA
7:30 pm
Ticket Link
Past Tour Dates
2022
Sun, May 1, 2022 – Hawai'i Theatre Center, Honolulu HI
Lei Day Show
Sun Jan 23, 2022  Smith Center for the Performing Arts, Las Vegas NV (2 shows)

2021
Sun, May 2, 2021, Hawai'i Theatre Center, Honolulu HI –rescheduled from May 2020
Lei Day Show
7:00 PM
2020
Fri, Jan 31, 2020, Discovery Theatre, Anchorage AK
Presented by Anchorage Concert Association

Tues, Feb 25, 2020, Dakota Jazz Club and Restaurant, Minneapolis MN

Thurs, Feb 27, 2020, Lincoln Center's American Songbook Presents, The Appel Room, New York NY

2019
Thurs, Nov 14, 2019, Green Music Center at Sonoma State University, Rohnert Park CA

Fri, Nov 15, 2019, The Sofia, Sacramento CA
Presented by SBL Entertainment

Sun, Nov 17, 2019, The Triple Door, Seattle WA

Thurs, Nov 21, 2019, Moss Performing Arts Center, Colorado Mesa University, Grand Junction CO

Sat, Nov 23, 2019, Daniels Hall, Denver CO
Presented by Swallow Hill Music

Fri, May 3, 2019, Hawai'i Theatre Center, Honolulu HI
Fri, Jan 25, 2019, Alberta Rose Theatre, Portland OR
Sat, Jan 26, 2019, The John G Shedd Institute, Eugene OR
Tues, Jan 29, 2019, Freight and Salvage Coffeehouse, Berkeley CA
Wed, Jan 30, 2019, Harris Center for the Arts, Folsom CA
Sat, Feb 2, 2019, Coconino Center for the Arts, Flagstaff AZ
Presented by Greenhouse Productions

Wed, Feb 6, 2019, Musical Instrument Museum, Phoenix AZ
Fri, Feb 8, 2019, Irvine Barclay Theater, Irvine CA
2018
Thurs, Mar 2, The John G Shedd Institute, Eugene, OR
Sat, Mar 24, The Sofia Theater, Sacramento, CA
Sun, Mar 25, Flynn's Caberet and Steakhouse, Felton, CA
Wed, Mar 28, Alberta Rose Theatre, Portland, OR
Sun, Apr 8, Blue Note Hawai'I, Honolulu, HI
Fri, Nov 9, Blue Note Hawai'i, Honolulu HI
Kalani Pe'a WAA/AMW Showcase Mini-performance
Program: Na Mele: Traditions in Hawaiian Song
Music Video: Ke ʻAʻa O Nā Lani
AWARD-WINNING PERFORMERS FROM HAWAI'I AND THE PACIFIC