Across the Sea: Jeff Peterson, Tsun-Hui Hung, Greg Sardinha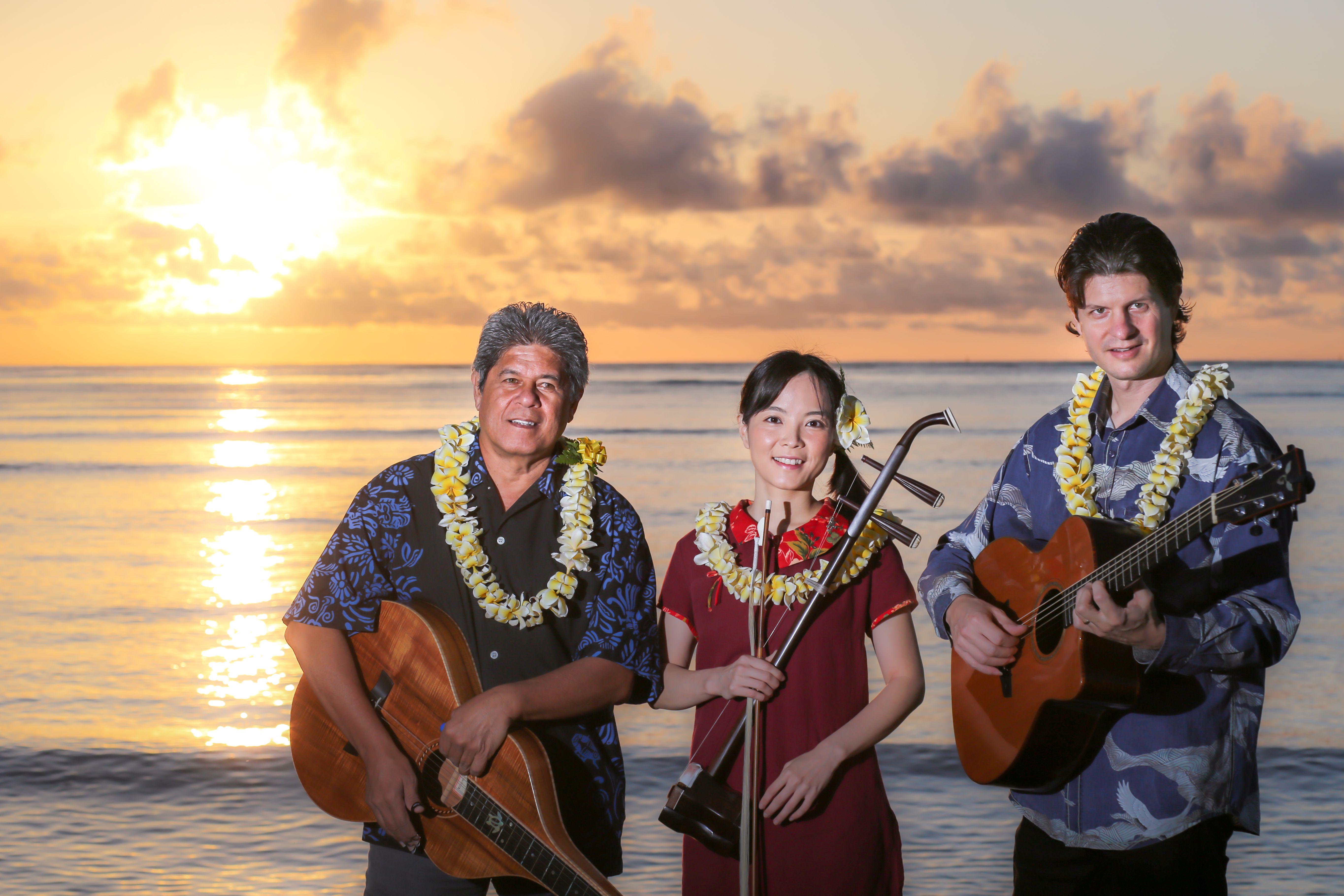 Across the Sea:
Jeff Peterson, Tsun-Hui Hung, Greg Sardinha
Although the cultural ties between China and Hawai'i stretch back over 200 years, there has been little or no contact between Hawaiian and Chinese music. This is the first recording where the steel guitar, Hawaiian slack key guitar, and `ukulele meet the Chinese erhu.
"We wanted to give traditional Hawaiian songs a new light with the erhu," explains the Maui-born Peterson. "If you think of kanikapila, kani means play and kapila is a fiddle, so in a way we're going back to the old days, although it's a Chinese fiddle." Maui News
People have traveled to Hawai'i in search of an idealized island paradise for centuries, for its natural beauty, lush tropical environment, and island culture. In addition to the indigenous Polynesian culture that first settled the islands, Hawai'i's musicians have adapted the music of other cultures to create music that is uniquely Hawaiian–the Hawaiian technique of ki ho'alu or slack key guitar, the `ukulele, and the Hawaiian steel guitar. And, since the beginning of the 20th century, musicians in other parts of the world have embraced the music of Hawai'i while adopting and adapting in turn.
Greg Sardinha is one of the foremost Hawaiian steel guitarists of his generation and has contributed to this Hawaiian art form for more than three decades as a musician, songwriter, arranger, and record producer.
Jeff Peterson is unique among ki ho'alu guitarists — in addition to his mastery of slack key techniques, he has also had extensive formal training in the traditions of Western (European-American) classical and jazz guitar. Taiwan-born Tsun-Hui Hung is internationally recognized as one of the most innovative players of the erhu.
The program includes originals, classic Hawaiian, and Chinese melodies. Some of these songs were written to celebrate the beauty of Hawai'i. Others describe the experience of traveling to reach a cherished place. This recording opens a new chapter in the evolution of Hawaiian music. We hope these songs will inspire all the travelers as they journey to realize their dreams.
Past Tour Dates
2019
Fri, Set 6, 2019, Krannert Center for the Performing Arts, Urbana IL
Ellnora The Guitar Festival

Wed, Sept 11, 2019, Freight & Salvage Coffeehouse, Berkeley CA

Thurs, Sept 12, 2019, Musical Instrument Museum, Phoenix AZ

AWARD-WINNING PERFORMERS FROM HAWAI'I AND THE PACIFIC