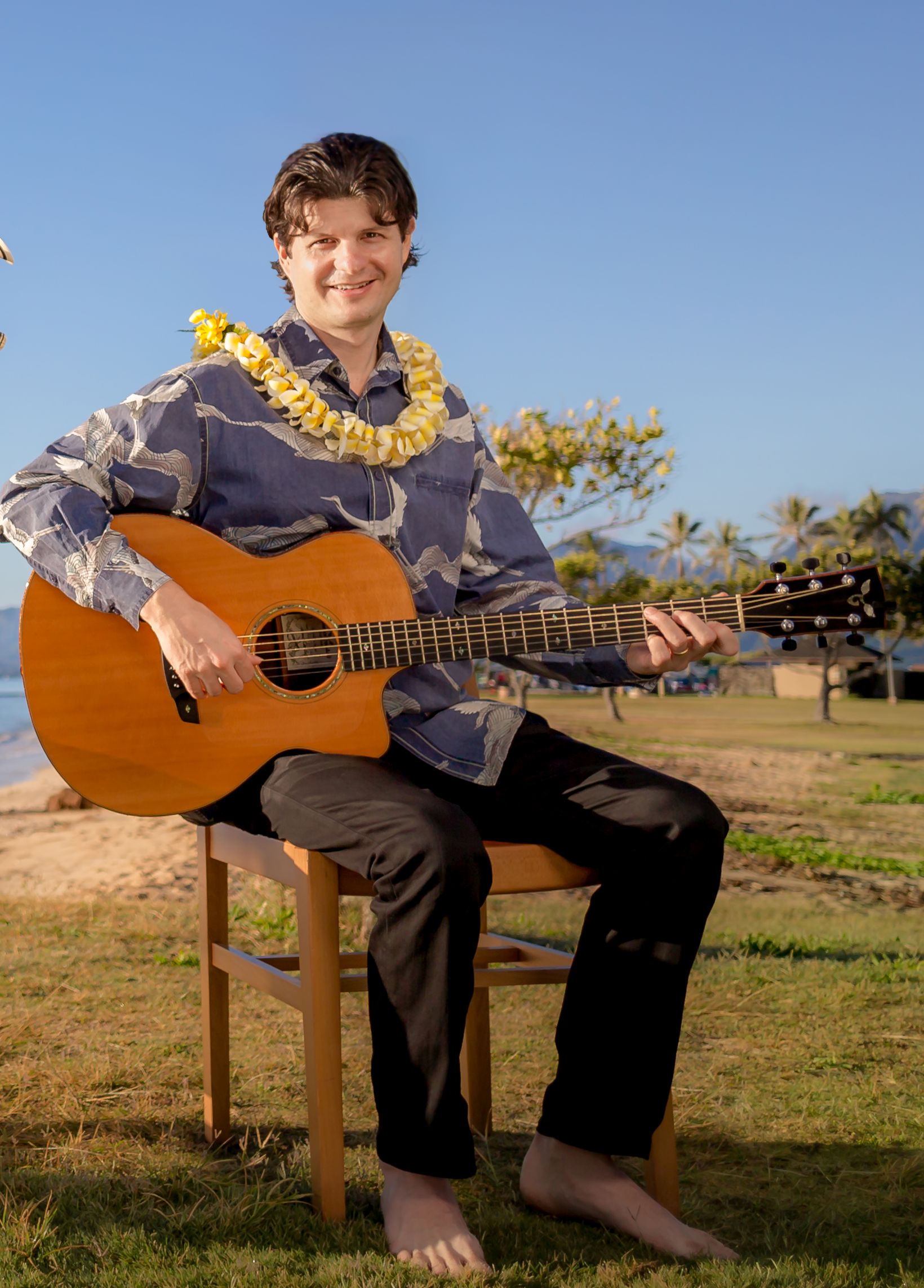 Photos: Erin McNally, Geoffrey C Lewis
Jeff Peterson
"Add the Peterson name to the top 10 list of slack key giants"…His manner is impeccable, his style exquisite… Brilliant . . Peterson raises the bar a few notches in both slack key and jazz" –Honolulu Advertiser
"…one of our leading, innovative exponents of Hawaiian slack key guitar. An exceptionally talented guitarist, fluent in a variety of styles from jazz and classical to slack key" –Maui News
Guitar virtuoso Jeff Peterson is a star of the next generation of slack key guitar players. A two-time Grammy-winner, Jeff takes the open tunings of Hawaiian slack key to explore multiple genres with confidence, flair, and impeccable style. His passion for the guitar shines through his solo performances and his deep knowledge of open as well as standard tunings has allowed him to collaborate with a wide variety of artists and orchestras. He has now been recognized with 11 Na Hoku Hanohano Awards (Hawai'i's "Grammy"), in such categories as Best Slack Key Album, Best Instrumental Album, and Best Instrumental Composition. His talent with slack key, classical, and jazz guitar styles has given him a unique and transcendent voice on the guitar while being deeply rooted in the traditions of his Hawaiian heritage. In 2018, he was awarded a Native Arts & Cultures Foundation fellowhip.
Jeff has written a Concerto for Slack Key Guitar and Orchestra, Malama 'Aina, which premiered in 2016 with the Raleigh Civic Chamber Orchestra (Hawai'i premiere with the Hawai'i Symphony Dec 10, 2017), and is available to guest with orchestra and chamber ensembles. Five of his original songs were featured in the award-winning George Clooney film The Descendants.
Tour Dates with Masters of Hawaiian Music:
– with George Kahumoku Jr and Sonny Lim – March 2022 (postponed from March 2020)
Tour Schedule
2021
Masters of Hawaiian Music: George Kahumoku Jr, Jeff Peterson, Sonny Lim
Fri March 12, 2021  Kent-Meridian Performing Arts Center, Kent WA
7:30 PM
Presented by the City of Kent Arts Commission
Fri & Sat March 19 & 20, 2021  Myron's Cabaret Jazz, The Smith Center, Las Vegas NV
7:00 PM
Sun March 21, 2021  Freight & Salvage Coffeehouse, Berkeley CA – Resecheduled from March 2020
8:00 PM
Thurs March 25, 2021  The Center for the Arts, Grass Valley CA  – Rescheduled from March 2020
8:00 PM
http://thecenterforthearts.org/event/masters-of-hawaiian-music/
Fri March 26, 2021  Montalvo Arts Center, Saratoga CA  – Rescheduled from March 2020
7:00 PM

Sat March 27, 2021  Edmonds Center for the Arts, Edmonds WA – Rescheduled from March 2020
7:30 PM

Wed March 31, 2021  Alberta Rose Theatre, Portland OR – Rescheduled from March 2020
8:00 PM
Thurs, April 1, 2021, The John G Shedd Institute for the Arts, Eugene OR – Rescheduled from March 2020
7:30 PM
https://theshedd.org/
The Egyptian Theatre, Boise ID – Postponed, new date to be announced
With Keola Beamer, Uluwehi Guerrero & Moanalani Beamer
Sat, March 6, 2021, Kauai Beach Resort, Lihue HI
A benefit fundraiser for the Mokihana Club
7:00 PM
https://themokihanaclub.org/
 PLEASE NOTE: Dates are subject to change due to the impacts of the covid-19 pandemic.
Past Tour Dates
2020 – Masters of Hawaiian Music – with George Kahumoku Jr & Nathan Aweau
Sat, Mar 7, 2020, Daniels Hall, Denver CO
presented by Swallow Hill Music
Sun, Mar 8, 2020, Musical Instrument Museum, Phoenix AZ
Fri, Mar 13, 2020, The Guitar Sanctuary, McKinney TX
With Keola Beamer & Moanalani Beamer
2020
Sun, Jan 12, 2020, Harris Center for the Arts, Folsom CA
Tues, Jan 14, 2020, The Triple Door, Seattle WA
Thurs, Jan 16, 2020, Lincoln Theatre, Mt Vernon WA
2019
With Keola Beamer and Moanalani Beamer
Mon, Oct 14, 2019, Alberta Rose Theatre, Portland OR
Thurs, Oct 17, 2019, Kirkland Performing Arts Center, Kirkland WA
Across the Sea – with Tsun-Hui Hung & Greg Sardinha
Fri, Sept 6, 2019, Krannert Center for the Performing Arts, Urbana IL
Ellnora The Guitar Festival

Sun, Sept 8, 2019, Old Town School of Folk Music, Chicago IL
Wed, Sept 11, 2019, Freight & Salvage Coffeehouse, Berkeley CA
Thurs, Sept 12, 2019, Musical Instrument Museum, Phoenix AZ
Keola Beamer & Jeff Peterson with Moanalani Beamer
2019
Sat, March 9, 2019, Kauai Beach Resort, Lihue, Kauai HI
2018
Mon, Oct 8, 2018, The Hult Center for the Performing Arts, Eugene OR
Tues, Oct 9, 2018, Alberta Rose Theatre, Portland OR
Sun, Oct 14, 2018, Columbia City Theater, Seattle WA
Presented by Brown Rock LLC
Thurs, Oct 18, 2018, Harris Center for the Arts, Folsom CAS
Sat, Oct 20, 2018, The Old Steeple, Ferndale CA
Sun, Oct 21, 2018, Blue Note Napa, Napa CA
Wed, Oct 24, 2018, Musical Instrument Museum, Phoenix AZ
Fri, Oct 26, 2018, Daniels Hall, Denver CO
Presented by Swallow Hill Music
2018 – Masters of Hawaiian Music: George Kahumoku Jr, Led Kaapana & Jeff Peterson
Sat, Feb 10 & Sun, Feb 11, 2018, Wolf Trap Foundation for the Performing Arts, Vienna VA
Mon, Feb 12, 2018, WaR3House3, Swarthmore PA
Thurs, Feb 15, 2018, Dakota Jazz Club and Restaurant, Minneapolis MN
Fri, Feb 16, 2018, Old Town School of Folk Music, Chicago IL
Sun, Feb 18, 2018, Music Box Cleveland, Cleveland OH
Fri, Feb 23, 2018, Café Stritch, San Jose CA
Wed, Feb 28, 2018, The John G Shedd Institute, Eugene OR
Fri, Mar 2 & Sat, Mar 3, 2018, The Triple Door, Seattle WA
Tues, Mar 6, 2018, The Sofia, Sacramento CA
Thurs, Mar 8, 2018, Rio Theatre, Santa Cruz CA
Fri, Mar 9 & Sat, Mar 10, 2018, The Smith Center for the Performing Arts, Las Vegas NV
Sun, Mar 11 & Mon, Mar 12, 2018, California Center for the Arts, Escondido CA
Thurs, Mar 15, 2018, Musical Instrument Museum, Phoenix AZ
Fri, Mar 16, 2018, Irvine Barclay Theater, Irvine CA
Sat, Mar 17, 2018, Daniels Hall, Denver CO
Concerto for Guitar & Orchestra
AWARD-WINNING PERFORMERS FROM HAWAI'I AND THE PACIFIC