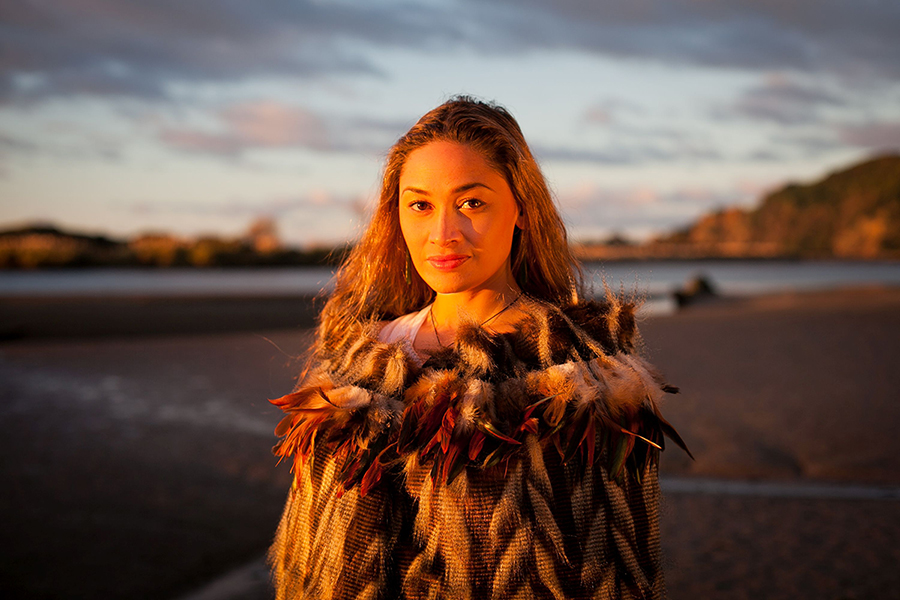 Maisey Rika
Māori singer-songwriter
"Heartfelt music and song showcasing what I believe to be one of the most arresting and beautiful voices to emerge from New Zealand, ever." –Paul Mclaney of Mushroom Music
"…extraordinarily moving work…" –Jon Woodhouse, The Maui News
Māori singer/songwriter Maisey Rika has one of Aotearoa's (New Zealand's) most impressive voices, creating music that fuses cultural roots, memorable tunes, and honest, sometimes haunting lyrics. Her original songs have become emotional and cultural touchstones in her native New Zealand, yet their universal themes and emotions grown of hardship, happiness, sorrow, and love resonate with audiences around the world. Her honey-smooth vocals combine with her unflinching take on such issues as domestic violence, Māori displacement, at-risk youth, the environment, and social justice, as well as her warm embrace life's joys, her family and her home.
Her stunning voice and fusion of English and Māori (Te Reo) lyrics illuminate her staunch pride in her Maori roots while engaging audiences of all backgrounds. She has garnered 13 Māori Music Awards to date, for her last 3 CDs, as well as a Vodaphone New Zealand Music Award in 2013. She was invited to open Universal Orlando's Volcano Bay attraction in 2017, as the lead singer.
Touring with Aotearoa's Finest in 2020.
Past Tour Dates
2018 – With Aotearoa's Finest
Sun, Jan 21, 2018, Kahilu Theatre, Waimea HI
Tues, Jan 23, 2018, Kaanapali Ocean Resort Villas, Kaanapali HI
Thurs, Jan 25, 2018, Maui Arts & Cultural Center, Kahului HI
Sun, Jan 28, 2018, Hawaii Theatre Center, Honolulu HI
AWARD-WINNING PERFORMERS FROM HAWAI'I AND THE PACIFIC