Keola Beamer & Jeff Peterson, with Moanalani Beamer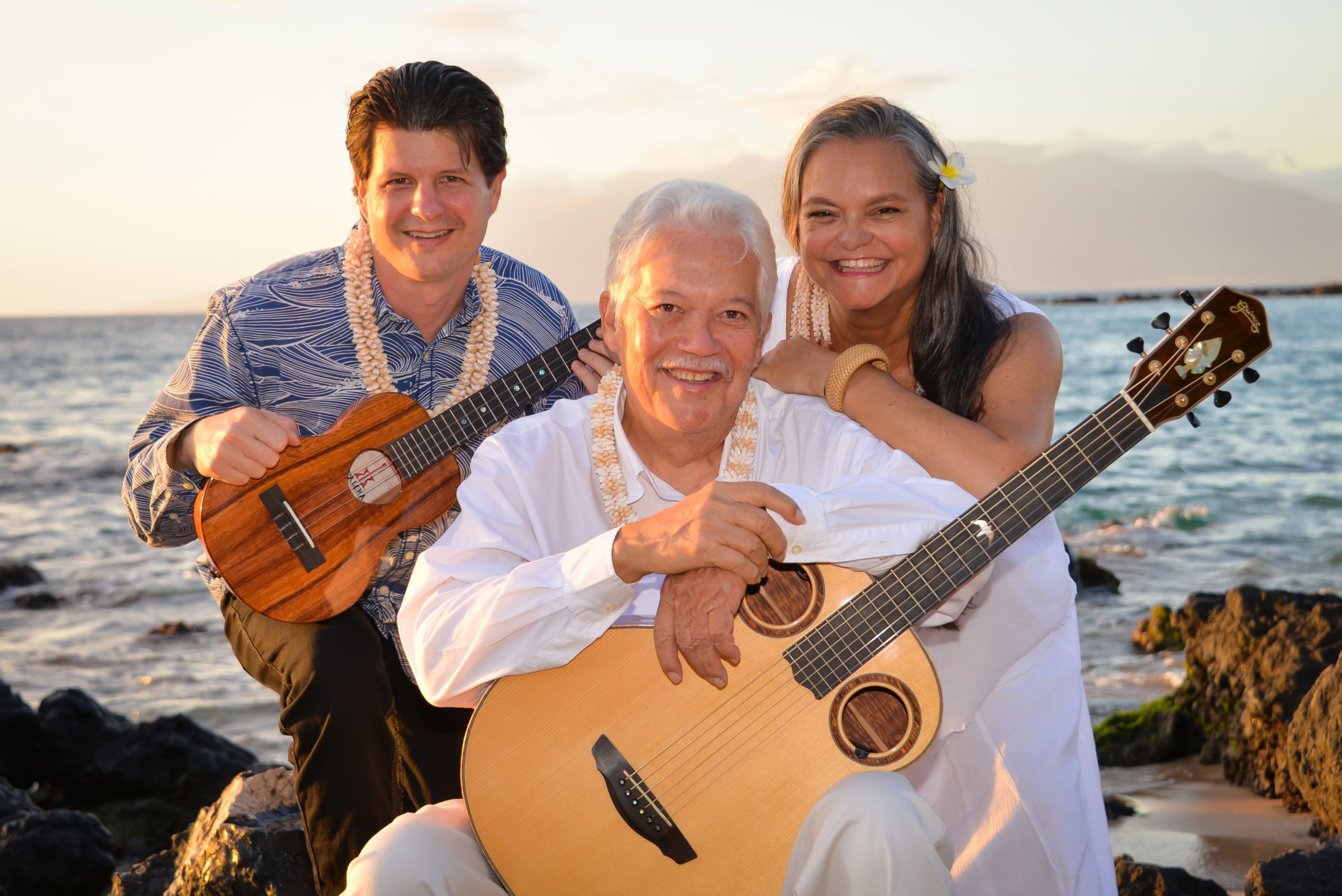 Keola Beamer & Jeff Peterson, with Moanalani Beamer
Keola Beamer is a Hawaiian legend who has stretched the boundaries of slack key guitar music while remaining true to the soul of its deeply Hawaiian roots. Says Willie Nelson, "There's no better slack key player than Beamer." Jeff Peterson is a star of the next generation, his refined style recently awarded by the Native Arts & Cultures Foundation. Notes the Honolulu Advertiser, "Add the Peterson name to the top 10 list of slack key giants"…
Together, they present an evening of superb guitar, accompanied by Beamer's rich and soulful vocals, as they explore the beauty of Hawaiian music as it reflects its native land and the range of Hawai'i's many cultural influences. Their styles feature the complexity of technique that has shaped the distinctively resonant sounds of Hawaiian slack key guitar or ki-ho'alu, with playing that encompasses classical and jazz guitar as well. They are joined by lovely hula dancer Moanalani Beamer, whose style reflects the long hula lineage of the Beamer family.
 Akalau – a 3D Hawaiian Experiential Performance
In this special production, Keola & Jeff's performance will be accompanied by 3D visuals by acclaimed Emmy-winning filmmaker Tom Vendetti, who has become known for such documentary films, seen nationally on PBS, as When the Mountain Calls: Nepal, Tibet & Bhutan, The Quietest Place on Earth, and the Emmy Award-winning film Bhutan Taking The Middle Path To Happiness. Says Beamer, "We began this journey of conceptualizing the music, providing more context of the music, through 3D imagery. All these Hawaiian songs are stories, sometimes with double meanings. The power of storytelling is transformative" and the accompanying images help share the deeper meanings and cultural references of the songs.
Past Tour Dates
Keola Beamer, Jeff Peterson, Uluwehi Guerrero & Moanalani Beamer
Sat, Apr 4, 2020, Kauai Beach Resort, Lihue HI
A benefit fundraiser for the Mokihana Club
Keola Beamer & Jeff Peterson with Moanalani Beamer
2020
Sun, Jan 12, 2020, Harris Center for the Arts, Folsom CA
Tues, Jan 14, 2020, The Triple Door, Seattle WA
Thurs, Jan 16, 2020, Lincoln Theatre, Mt Vernon WA

2019
Mon, Oct 14, 2019, Alberta Rose Theatre, Portland OR
Thurs, Oct 17, 2019, Kirkland Performing Arts Center, Kirkland WA
Sat, March 9, 2019, Kauai Beach Resort, Lihue, Kauai HI
2018
Mon, Oct 8, 2018, The Hult Center for the Performing Arts, Eugene OR
Arts Northwest Juried Showcase 
Tues, Oct 9, 2018, Alberta Rose Theatre, Portland OR
Sun, Oct 14, 2018, Columbia City Theater, Seattle WA
Presented by Brown Rock LLC
Thurs, Oct 18, 2018, Harris Center for the Arts, Folsom CA
Sat, Oct 20, 2018, The Old Steeple, Ferndale CA
Presented by Ferndale Music Company

Sun, Oct 21, 2018, Blue Note Napa, Napa CA
Wed, Oct 24, 2018, Musical Instrument Museum, Phoenix AZ
Fri, Oct 26, 2018, Daniels Hall, Denver CO
Presented by Swallow Hill Music
Pua Lililehua/He Punahele
AWARD-WINNING PERFORMERS FROM HAWAI'I AND THE PACIFIC