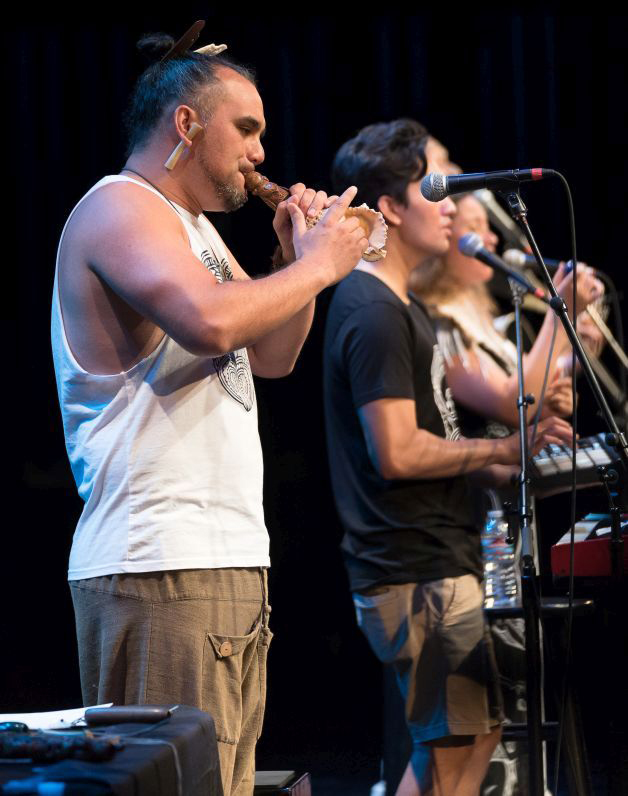 Banner Photo: Putatara Kokiri

Photo: Aubrey Hord
Horomona Horo
Taonga puoro* composer, cultural practitioner
*Traditional Maori (NZ) instruments
"Horo's exquisitely gauged improvisations ranged from a crystalline koauau [flute] introduction to a war-like pukaea [trumpet]." –NZ Herald
"A new generation of musicians is creating a distinctive New Zealand voice. One of the masters of this new generation is Horomona Horo." – Mana Magazine
Composer, cultural practitioner and cross genre collaborator, Horomona Horo has fused the traditional instruments of the Maori, taonga puoro [singing treasures], with a diverse range of cultural and musical forms. His ability to perform solo, as well as collaborate broadly through many styles, has led to Horo performing and presenting as a New Zealand representative in Europe, Australia, Asia and South America and becoming the international Maori face of Taonga Puoro.
A tohunga, or master of the instruments, Horomona performs the full spectrum of the taonga puoro instruments with a measured skill and historical and cultural understanding as passed down to him by his mentors, first the late Dr Hirini Melbourne and since 2006, Dr Richard Nunns – two of the men credited with the revival of the art-form. Each instrument has a specific use within rites of passage, storytelling and daily life of the Maori peoples. This daily life-breathing of the instruments, combined with an extensive knowledge of contemporary musical techniques, is the distinguishing mark of Horo's work.
In 2001, Horo won the inaugural Dynasty Heritage Concerto Competition. Performances including orchestral work with the Weimarer Staatskapelle Orchestra, hip-hop with Pao Pao Pao, Opera in the Park with Kiri Te Kanawa, and guest artist at the 90th Commemorations of the Battle of Passchendaele. He has toured internationally with Moana and the Tribe; Aotearoa's Finest with Maisey Rika, Rob Ruha and Seth Haapu; Canti Maori; the Irish collaboration with Green Fire Islands; and the NZ String Quartet. These performances have enabled Horomona to extend his knowledge and skills across diverse genres while remaining a cultural and musical educator in his own right.
Past Tour Dates
2019
Sat, Mar 30, 2019, Music Unites Us Performance, Brandeis University, Waltham MA
2018 – With Aotearoa's Finest
Sun, Jan 21, 2018, Kahilu Theatre, Waimea HI
Tues, Jan 23, 2018, Kaanapali Ocean Resort Villas, Kaanapali HI
Thurs, Jan 25, 2018, Maui Arts & Cultural Center, Kahului HI
Sun, Jan 28, 2018, Hawaii Theatre Center, Honolulu HI
AWARD-WINNING PERFORMERS FROM HAWAI'I AND THE PACIFIC