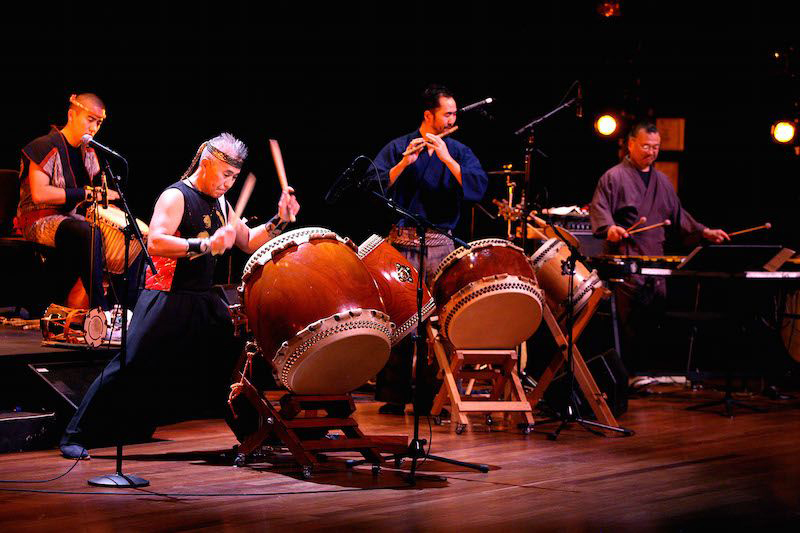 Photos Toyo Miyatake Studio
Kenny Endo
Taiko Master
"His ability to interweave … traditional taiko style with … jazz drumming has enabled him to create an incredibly dynamic style of performing that captivated the audience and was literally breathtaking. " –The Grateful Web, NY
"Kenny Endo has probably taken taiko the farthest among Americans." –Natural History, the North American Taiko Conference report
In 2025, Kenny Endo will celebrate 50 years in Taiko performance. He stands at the vanguard of the taiko genre, as one of the leading personas in contemporary percussion and rhythm in North America and in Japan. For five decades, he has led the way in this Japanese style of drumming in the U.S. as he plans his 2025-26 50th Anniversary Tour:  2X25 in 2025
As a jazz percussionist and early innovator in Japanese taiko, Kenny Endo's adventurous spirit stretches the taiko genre incorporating influences like funk, jazz, Afro-Cuban & Hawaiian, with roots firmly grounded in tradition. With 45 years of performing and touring, he continues to lead the way in this Japanese style of drumming. His performances are nuanced, brilliant, exciting!
Endo tours with his Contemporary Ensemble – taiko, vibes, drums, 'ukulele, flute, koto or shamisen. The 45th Anniversary tour will feature prominent artists and long-time collaborators Kaoru Watanabe, flutes, and Abe Lagrimas, vibes, drumkit, 'ukulele. along with Sumie Kaneko, koto and shamisen.
Endo has received numerous awards and accolades, including special recognition in Japan—he was the first non-national to be honored with a "natori," a stage name, in Japanese classical drumming and is still esteemed in Japan today. He has won numerous awards, was featured artist on 2005 PBS special Spirit of Taiko, as well as several film soundtracks (including Coppola's Apocalypse Now), and was honored by the National Endowment for the Arts for American Masterpieces. In 2022, Endo was honored as a Living Treasure of Hawai'i (TM). 
"… the concert was absolutely amazing. Each performer was a master soloist in their own right, and you all came together in a very special ensemble … all blended into a modern approach to percussion that I believe is unique in the world today." –Chair, Dept of Music, Lafayette College
Past Tour Dates
2023
Wed, July 12, 2023 – Hawai'i Convention Center, Honolulu HI
Private Event
 Thurs, Apr 13, 2023 – Freight & Salvage Coffeehouse, Berkeley CA

 Thursday, Apr 20, 2023 – Edmonds Center for the Arts, Edmonds WA
Spring 2022 – 45th Anniversary Tour: Breaking Through Tradition to Innovation
Thurs, March 22, 2022 – The Grand Opera House, Macon GA
Wed, March 30, 2022 – Dodd Auditorium, University of Mary Washington, Fredericksburg VA

Thurs, March 31, 2022 – Dickinson College, Carlisle PA

Sat, April 2, 2022, Millennium Stage, The Kennedy Center, Washington DC
A Participating Event of the 2022 National Cherry Blossom Festival

Sun, April 3, 2022 – Joe's Pub, New York NY

Thurs, April 7, 2022 – UMass Amherst, Amherst MA

Sat, April 9, 2022 – Shofuso Japanese House & Garden, Philadelphia PA
Presented by the Japan American Society of Greater Philadelphia's Cherry Blossom Festival
A Collaboration with Opera Philadelphia 

Mon, April 18, 2022 – Finney Chapel, Oberlin College, Oberlin OH
Fri, April 22, 2022 – Krannert Center for the Performing Arts/Univ of Illinois, Champaign IL

Mon, April 25, 2022 – Ordway Concert Hall, St Paul MN
Presented by Taiko Arts Midwest
Sat, April 30, 2022 – Musical Instrument Museum (The MIM), Phoenix AZ

Sun, May 1, 2022 – Community Performance & Art Center, Green Valley AZ

Sat, May 7, 2022 – Bing Concert Hall, Stanford University, Stanford CA
Presented by the Dept of Music, with Stanford University Taiko in celebration of their 30th Anniversary — Spring Concert: Harmonic Convergence
Fri, May 13, 2022 – Oxnard Performing Arts Center, Oxnard CA
AAPI Heritage Celebration

 Sat, May 14, 2022 – Aratani Theatre, Japanese American Cultural & Community Center, Los Angeles CA

Sun, May 22, 2022 – Patricia Reser Center for the Arts, Beaverton OR

2017
Fri, July 21, 2017, Çırağan Palace & The Marmara Esma Sultan, Istanbul TURKEY
2016
Wed, Oct 19 – Thurs Oct 20, 2017, Kendo-Drum Workshops & Cultural Sharing at Mansfield Center for the Performing Arts, Great Falls, MT
Kenny Endo Contemporary Taiko at Millennium Stage, Kennedy Center, Washingon DC
Yume No Pahu by Kenny Endo
AWARD-WINNING PERFORMERS FROM HAWAI'I AND THE PACIFIC