George Kahumoku Jr. - Masters of Hawaiian Music Guest Artists
Guest Artists – Masters of Hawaiian Music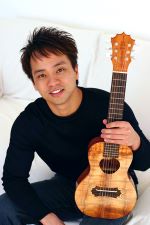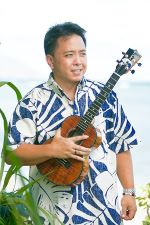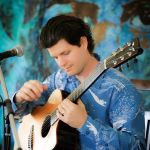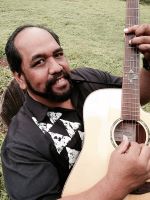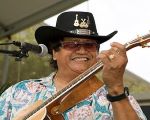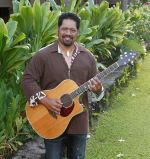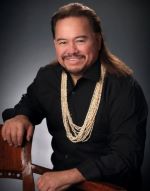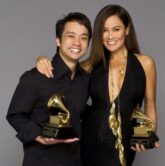 '"Virtuosic keepers of a cultural flame…Bringing folklore & cultural memory into a performance that unfolded as breezy entertainment."  – The New York Times
Regular guest artists on George Kahumoku's renowned Masters of Hawaiian Slack Key Guitar® series on Maui, and on his Grammy award-winning CDs, these Masters share the delightful experience of kī-hō'alu (slack key guitar) – the distinctly Hawaiian style of open tunings, 'ukulele, and Hawaiian vocals.
Daniel Ho
 (September/October 2022)
"I love the ukulele. I can take it everywhere. It's a way to have music with you all the time." – Making Music
Daniel Ho is a six-time Grammy winner, with 4 of his Grammy credits as producer of George Kahumoku's 4 Grammy wins. He is multi-instrumentalist, composer, arranger, and performer, with talent and versatility on 'ukulele, slack key guitar, piano, and vocals. His two other Grammy wins were with close friend Tia Carrere, and he has been nominated for solo 'ukulele and solo piano CDs.
Herb Ohta Jr
(January 2022)
"Herb Ohta Jr. is the undisputed master 'ukulele instrumentalist of his generation."  –Honolulu Star-Advertiser
'Ukulele virtuoso Herb Ohta Jr's natural talent, knowledge, technique, and speed are unsurpassed. Herb's versatility and ability to adapt to the changing times will captivate you, the listener, and transport you. As a master ukulele performer, composer, recording artist, and teacher, it is Herb's goal to share the beauty of Hawai'i's music, its culture, and the 'ukulele to people all over the world. Son of the legendary 'ukulele artist Ohta-san, his first formal teacher, Herb learned his first 'ukulele song at age three. Now a multiple award-winner, with 7 Na Hoku Awards (including Best 'Ukulele in 2021) and 4 Hawai'i Music Awards, he creates unique arrangements of new and familiar tunes and makes each song breathtakingly fresh and definitely his own. Herb's style is distinct and recognizable with a graceful "nahenahe" quality (gentle, melodious, evocative) that is very Hawaiian, reflecting the inspirations of 'ukulele greats that came before him. 
"Add the Peterson name to the top 10 list of slack key giants"…"His manner is impeccable, his style exquisite"…"Brilliant. . . Peterson raises the bar a few notches in both slack key and jazz"–Honolulu Advertiser
Guitar virtuoso Jeff Peterson is one of the most versatile musicians in Hawaiian music today. Specializing in Slack Key, Classical, and Jazz guitar, he has contributed to two Grammy-winning recordings and has been honored with 8 Na Hōkū Awards (Hawaii's "Grammy"). Five of his songs are in the George Clooney film The Descendants.  For more info, click here
Kawika Kahiapo 
"Kawika Kahiapo's first solo album in more than a decade emphasizes his strength as a solo vocalist … who is also talented slack key guitarist. The songs … show him to be a guy with broad musical horizons." —Honolulu Star-Advertiser
Slack Key Guitarist David Kawika Kahiapo has won multiple Na Hoku Awards in a number of categories, including Slack Key Guitar Album of the Year and Island Album of the Year. A regular at Jack Johnson's Kokua Fests, his slack key roots and commitment to Hawaiian culture run deep. Born on the windward side of O`ahu, Kawika finds a never-ending source of inspiration in the breathtaking Ko`olau mountain range, lush, green valleys and the magnificent ocean views. His interest in music began at an early age, inspired by his father, then learning from "garage" jam sessions when "Pops" Gabby Pahinui would show up at their house to play. At age17, Kawika entered the professional music scene and has since contributed to more than 84 recording projects and performed with numerous artists. Kawika is also featured on George Kahumoku's compilation CD Masters of Hawaiian Slack Key Guitar, vol 2 which won the 2010 Grammy Award for Best Hawaiian Music Album.
"…He's an absolute genius on guitar, ukulele, steel guitar, autoharp … and he is still a humble giant…"—Keith Haugen, freelance writer, Honolulu
A master of the slack key guitar and National Heritage Fellow, Led Kaapana has been one of Hawaii's most influential musicians for four decades. His mastery of stringed instruments, his exceptional picking style on slack key guitar and 'ukulele, and his extraordinary baritone to leo ki`eki`e (falsetto) vocal range, have made him a musical legend and earned him multiple Na Hōkū Awards.  For more info, click here.
"Nathan is that distinguished rarity…A jack of all trades, master of an expansive domain."–Honolulu Advertiser
A talented multi-instrumentalist, Nathan Aweau has been part of such award-winning groups as HAPA, Ka'eo, and The Ali'i. His seven solo CDs have won him multiple Na Hoku Awards, including Male Vocalist of the Year (the only person to have won 3 times), Song of the Year (twice), and Island Album of the Year, among others.  For more info, click here.
Sonny Lim
(March 2022)
"Overcome with emotion, Lim became the first Hawaiian to speak Hawaiian at the Grammys, thanking them for honoring Hawaiian music.".  –Honolulu Magazine on the first Grammy-winning CD in the newly-minted Hawaiian music category
Slack Key Guitarist, Lap Steel Guitarist, vocalist, songwriter, and producer, Sonny Lim developed his guitar & vocal styles performing with his famous Lim Family of the Big Island, esteemed Hawaiian cultural practitioners and descendants of Hawai'i Island royalty. He was also one of the early members of the renowned Makaha Sons of Ni'ihau — the legendary Iz was an early member — for whom he played lap steel guitar beginning at age 15; this launched his career as a professional musician. He performed on the first Grammy-winning CD in Hawaiian music, and has won multiple Na Hoku Awards on his solo CDs. Born and raised in the heart of paniolo (cowboy) country on the Big Island, he was originally inspired to play Slack Key by the legendary Gabby Pahinui and at age 12 was taught by his Uncle Fred Punahoa, also teacher to the renowned Led Kaapana. Sonny has since become a respected solo artist, group artist with leading Hawaiian performers, and a sought-after studio musician. 
Tia Carrere (September/October 2022)
International star and two-time Grammy winner Tia Carrere's credits include Wayne's World, True Lies, Rising Sun, and Lilo & Stitch. Tia has also starred in her own TV series Relic Hunter, and has appeared in Hawaii 5-0, Curb Your Enthusiasm, and AJ & the Queen. She most recently starred in the Universal/Amblin feature film Easter Sunday.  
Tia went double platinum with the Wayne's World soundtrack, while her Warner Bros. album Dream became an international success. Tia returned to her Hawaii roots with multi-Grammy award-winning producer/artist Daniel Ho, receiving two Grammy® Awards. 
Tia's music and vocals have been featured on shows such as Baywatch, Batman, Mask of the Phantasm, Comedy Central's Comedy Jam, and Hawaii 5-0. 
Tia Carrere & Daniel Ho perform "Welo"
Masters of Hawaiian Music: George Kahumoku Jr, Daniel Ho, Tia Carrere
AWARD-WINNING PERFORMERS FROM HAWAI'I AND THE PACIFIC