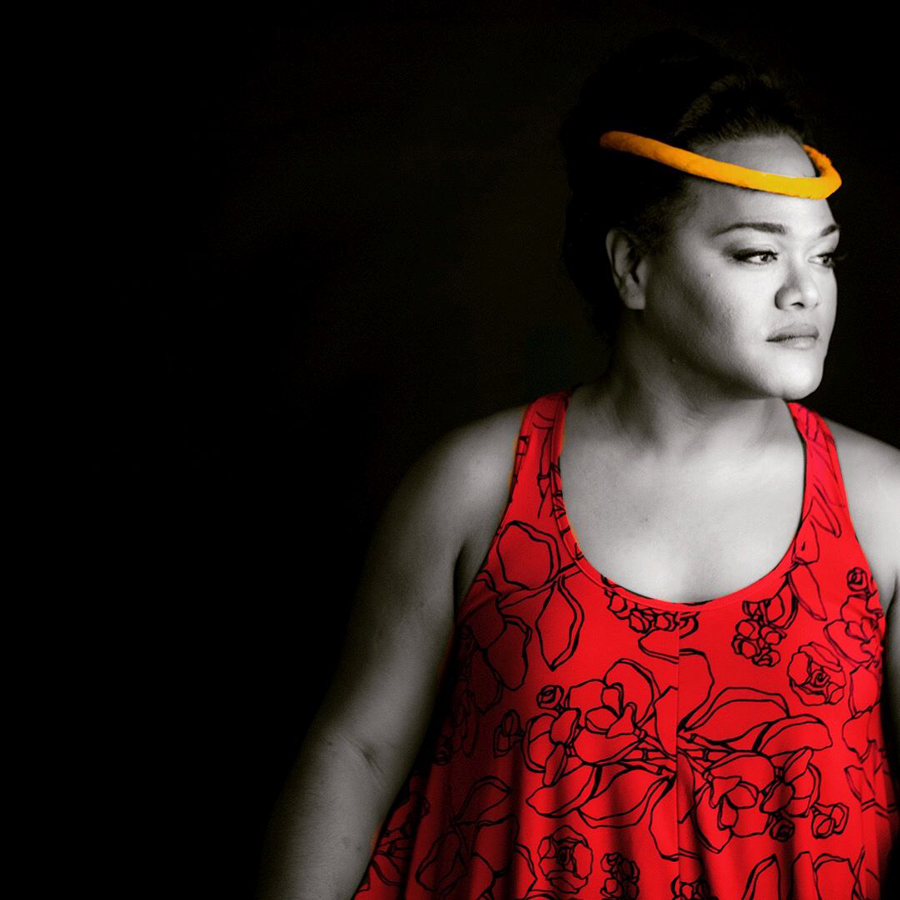 Kaumakaiwa Kanaka'ole
the voice of Hawai'i's new generation
"Kanaka'ole… vaulted through various registers and timbres, from bass to witchy contralto rasp to sweet soprano ("skinny girl" voice, [she] said), a traditionalist tour de force." –NY Times
"an inspired primer on preserving and perpetuating things and themes Hawaiian, with treats galore" –Honolulu Advertiser
A riveting performer, Kaumakaiwa creates some of the most original work to emerge in contemporary Hawaiian music, drawing from ancestral memory and hula practice as chant transforms to melody. Kaumakaiwa seamlessly melds Hawaiian culture and modern sensibilities in deeply powerful music.
Kaumakaiwa Kanaka'ole has been on stage since she could walk. A charismatic dancer and singer, with an impressive vocal range from tenor chant to Hawaiian falsetto singing, she is a five-time Nā Hōkū Hanohano [Hawaiian "Grammy"] Award-winner with 3 solo CDs to her name. She is the great grandchild of Edith Kanaka'ole, who was one of the seminal figures of the Hawaiian Renaissance which helped bring Hawaiian culture back into the central life of the Islands. Since birth, Kaumakaiwa has dedicated her life to her illustrious family's practice and passion – hula (Hālau O Kekuhi) and Hawaiian culture. Her vocal performances are an outgrowth of the Hawaiian art of chant and songwriting, with roots in rhythms and metaphors of hula. She was honored with an NACF (Native Arts & Cultures Foundation) Fellowship Award. In 2018, she was invited to be an Opening Plenary Speaker at the APAP's annual national conference in New York, as well as sit on a world music panel. She was the first Hawaiian performer to appear at globalFEST in New York.
A modern transgender Hawaiian (mahu wahine), she is a vibrant keeper of culture, an authentic innovator, and fun, as she engages indigenous thought to address today's issues through music, chant, and sharing of spirit. With plenty of humor, she provides wry commentary and stories to give context to her songs. Award-winning musician and producer Shawn Pimental accompanies on guitar and backup vocals.
Tour Schedule
2020
with Shawn Pimental
Fri, Jan 31, 2020, Weis Center for the Performing Arts, Bucknell University, Lewisberg PA
7:30 PM
https://www.bucknell.edu/life-bucknell/arts-performances/weis-center-performing-arts/2019-20-season/kaumakaiwa-kanakaole
Sat, Feb 1, 2020, Patterson Theater, Baltimore MD
Presented by Creative Alliance at the Patterson
8:00 PM
www.creativealliance.org/events/2020/hawaiian-voices-kaumakaiwa-kanakaole-shawn-pimental
Sun, Feb 2, 2020, Joe's Pub, New York NY
7:00 PM
https://publictheater.org/productions/joes-pub/2020/k/kaumakaiwa-kanakaole-w-shawn-pimental/
Tues, Feb 4 & Wed, Feb 5, 2020, The Fredericton Playhouse, Fredericton, New Brunswick CANADA
Traditional Hula Dance Workshop – Tues, Feb 4, 2020 – 7:00 PM
https://www.theplayhouse.ca/event/traditional-hula-dance-workshop/
Performance – Wed, Feb 5, 2020 – 7:30 PM
https://www.theplayhouse.ca/event/kaumakaiwa-kanakaole/
Fri, Feb 7, 2020, First Ontario Performing Arts Centre, St Catherine's, Ontario CANADA
7:30 PM
https://firstontariopac.ca/Online/default.asp?BOparam::WScontent::loadArticle::permalink=EventArticle-19PAC39-Kaumakaiwa-Kanaka-Ole&BOparam::WScontent::loadArticle::context_id=
Sun, Feb 9, Club Passim, Cambridge MA
2 Shows: 5:00 PM and 8:00 PM
https://www.passim.org/live-music/events/kaumakaiwa-kanakaole-shawn-pimental/?utm_source=artist
With Shawn Pimental and Waipuna
Wed, Feb 12, 2020, Freight & Salvage Coffeehouse, Berkeley CA
8:00 PM
https://www.eventbrite.com/e/kaumakaiwa-kanakaole-with-shawn-pimental-and-waipuna-tickets-77587946637
Past Tour Dates
2019-  with Shawn Pimental
Sunday, Oct 6, 2019,  Te Tairawhiti Arts Festival, Gisborne NZ
Under An East Coast Moon at the Soundshell, Turanga
This engagement was generously supported by the Mid-Atlantic Arts Foundation through USArtists International in partnership with the National Endowment for the Arts and the Andrew W. Mellon Foundation.
Wed, May 8, 2019, Elisabeth Murdoch Hall, Melbourne Recital Centre, Southbank VIC, Australia
Fri, Jan 25, 2019, Discovery Theatre, Anchorage AK
Sun, Jan 27, 2019, The Cultch, Vancouver BC Canada
2018 – with Shawn Pimental
Fri, Jan 12, 2018, APAP Opening Plenary, NY Hilton Midtown, New York City NY
Sun, Jan 14, 2018, Old Town School of Folk Music, Chicago IL
Mon, Jan 15, 2018, Dakota Jazz Club and Restaurant, Minneapolis MN
Wed, Jan 17, 2018, Merced Multicultural Arts Center, Merced CA
Sun, Feb 18 – Sat, Feb 24 – APAM Events, New Farm, QLD, AU
Wed, Sept 26, 2018, Harris Center for the Arts, Folsom CA
Fri & Sat, Sept 28 & 29, 2018, Lotus World Music & Arts Festival, Bloomington IN
Mon, Oct 1, 2018, City Winery NYC, New York NY
Presented by CEG&T Presents

Sat, Oct 6, 2018, Boston University Global Music Festival, Boston MA
Fri, Nov 2, 2018, Wailuku First Friday, Wailuku HI
Sat, Nov 3, 2018, "Because of You, Honoring Clay Sutherland" Fundraiser, Maui Brewing Company, Kihei HI
AWARD-WINNING PERFORMERS FROM HAWAI'I AND THE PACIFIC