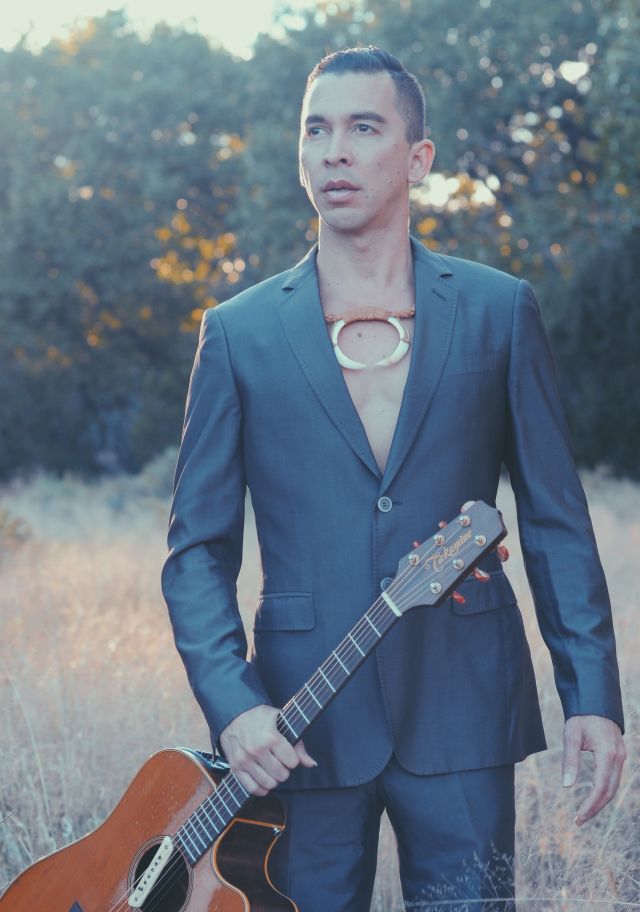 Cover Photo: Kim Huynh

Photo: Lexi Mackenzie
Makana
"A dynamic force within the style [of slack key]…dazzling" – The New York Times
"He's lean, young, expressive, with impressive stage presence and jewel box precision… He is a master, for certain, but blessed with sizzling showmanship." — Honolulu Advertiser
"I've been deep into classical music and Hawaiian slack-key guitar. I've gotten way into Andres Segovia, and this Hawaiian guitar player called Makana" –Kirk Hammett interview, Guitar World (Lead guitarist for Metallica)
Hailing from the isle of O'ahu, Makana is an internationally acclaimed slack-key guitarist, singer, composer, philosopher, activist, and one of Hawaii's cultural ambassadors to the world. He is recognized as one of the top guitarists in the United States by Guitar Player magazine, and has been honored in Hawai'i with the prestigious Kī-Hō'alu (Slack Key) Foundation Legacy Award. In 2018, he was invited to showcase at SXSW.
Virtuosic and versatile, Makana's music defies description. Makana uses over a hundred tunings to fashion a massive, resonant, symphonic sound without use of loop pedals or gimmicks. His live performances are an exhilarating ride through the breadth of slack key, folk, rock, bluegrass, ethnic and jazz and his distinctly original songs are infused with the spirit of Hawai'i.
His newest album Pūlama: Legacies of Hawai'i celebrates the rich heritage of kī hō'alu (slack key guitar), 'ukulele and leo (voice), a tribute to the history and traditions of Hawaiian music, and an appreciation of his mentors, the early masters of slack key guitar, including the legendary Sonny Chillingworth. Through stories ancient to contemporary, historical and cultural context, and songs direct from the masters, Makana brings his phenomenal guitar and vocal skills to honor the history of Hawaiian slack key traditions.
He has supported acts ranging from Santana and Sting to Jason Mraz, Joe Walsh of The Eagles, Bad Company, Leon Russell, Chris Isaak, Elvis Costello, Gotye, Jack Johnson and many others. His music has been featured on 3 Grammy nominated records including the soundtrack for Academy Award-winning film The Descendants.
Makana's music and performance style transcend category and trend. His ability to convey his roots from Hawai'i in the context of a modern sound shatters stereotypes and engages audiences in a way that is fun and transformative.
Past Tour Dates
2022
Tues, Dec 6, 2022 – Joe's Pub, New York NY

Wed, Dec 7, 2022 – The Kennedy Center Millennium Stage, Washington DC

Thursday, April 21, 2022 – The Triple Door, Seattle WA
Wednesday, April 27, 2022 – Alberta Rose, Portland OR
Friday, April 29, 2022 – The Smith Center for the Performing Arts, Las Vegas NV
Friday, May 6, 2022 – Freight & Salvage Coffeehouse, Berkeley CA

Sat, May 7, 2022 – Montalvo Arts Center, Saratoga CA

Sun, May 8, 2022 – The Center for the Arts, Grass Valley CA
Mother's Day Concert!

Tues, May 10, 2022 – SOhO Restaurant & Music Club, Santa Barbara CA
Fri, May 13, 2022 – Irvine Barclay Theatre, Irvine CA
Sat, May 14, 2022 – Musical Instrument Museum, Phoenix AZ
"Celebrate Music from Hawai'i" – lecture/demonstration – family day – FREE
 Sun, May 15, 2022 – Musical Instrument Museum, Phoenix AZ
"Celebrate Music from Hawai'i" – lecture/demonstration – family day – FREE

Sun, May 15, 2022 – Musical Instrument Museum, Phoenix AZ
"Celebrate Music from Hawai'i" Performance

 Thursday, May 19, 2022 – Chatter, Albuquerque NM
Presented by AMP Concerts
Friday, May 20, 2022 – Tumbleroot Brewery & Distillery, Santa Fe NM
Presented by AMP Concerts
2019
Wed, Feb 20, 2019, Miners Foundry Cultural Center, Nevada City CA
Thurs, Feb 21, 2019, Yoshi's Oakland, Oakland CA
Sun, Feb 24, 2019, Blue Note Napa, Napa CA
Tues, Feb 26, 2019, Kuumbwa Jazz Center, Santa Cruz CA
Thurs, Feb 28, 2019, Musical Instrument Museum, Phoenix AZ
Fri, Mar 1, 2019, Outpost Performance Space, Albuquerque NM
Sat, Mar 2, 2019, The Guitar Sanctuary, McKinney TX
Mon, Mar 4 and Tues, Mar 5, 2019, Goodwood Museum and Gardens, Tallahassee FL
Sun, Mar 10, 2019, Belly Up Tavern, Solana Beach CA
Double Bill with Shawn & Lehua
Thurs, Mar 14, 2019, The Coach House, San Juan Capistrano CA
Fri, Mar 22, 2019, Alberta Rose, Portland OR
Fri, Mar 29, 2019, Benaroya Hall at Benaroya Hall Music Center, Seattle WA
Sat, Sept 21, 2019, Globalquerque World Music Festival, Albuquerque NM
2018
Tues, Mar 13, 2018, Sheraton Austin Hotel at the Capitol, Austin TX
Fri, Mar 16, 2018, Gilfillan House, Austin TX
Sat, Mar 17, 2018, CU 29, Austin TX
Tues, Apr 24, 2018, Blue Note Hawai'i, Honolulu HI
2017
With John Cruz
Tues, Sept 5, 2017, Joe's Pub, New York City NY
Fri, Sept 8, 2017, Ludlow Garage, Cincinnati OH
Mon, Sept 11, 2017, Dakota Jazz Club & Restaurant, Minneapolis MN
2017
Thurs, Sept 14 & Sat, Sept 16, 2017, Krannert Center for the Performing Arts/University of Illinois, Urbana, IL
Fri, Sept 29, 2017, Neptue Theatre, Seattle WA
Tues, Oct 3, 2017, Alberta Rose Theatre, Portland OR
Fri, October 6 and Sat, October 7, 2017, The Smith Center for the Performing Arts, Las Vegas, NV
Sun, October 8, 2017, Freight & Salvage Coffeehouse, Berkeley, CA
Mon, Oct 9, 2017, Belly Up Tavern, Solana Beach CA
Wed, October 11, 2017, Kuumbwa Jazz Center, Santa Cruz, CA
Thurs, October 12, 2017, Blue Note Napa, Napa, CA
Tues, Dec 12, 2017, SOhO Restaurant & Music Club, Santa Barbara CA
AWARD-WINNING PERFORMERS FROM HAWAI'I AND THE PACIFIC