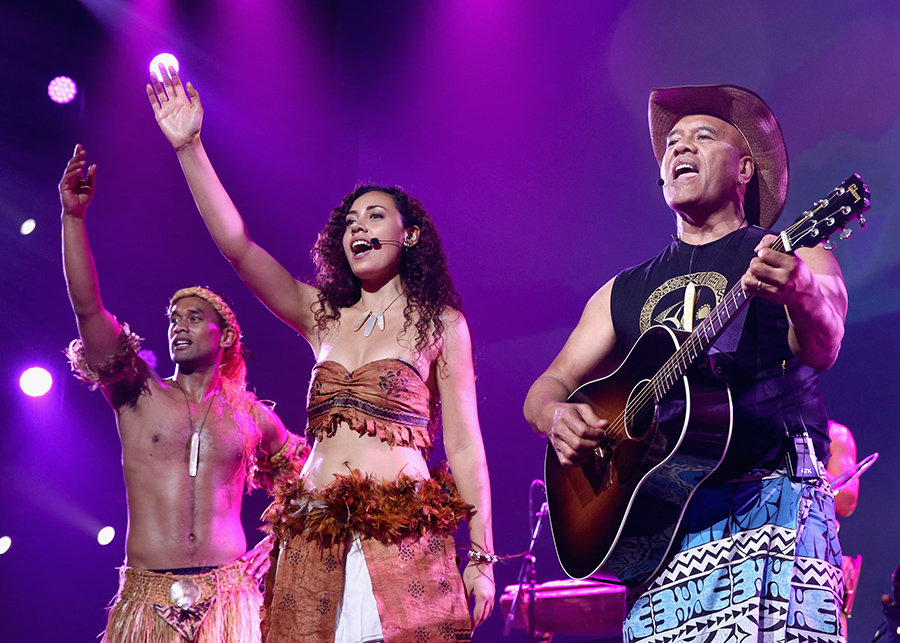 Te Vaka
"Buoyant songs by the Polynesian singer and composer Opetaia Foa'i (performed with his band Te Vaka) anchor the [Moana] film's cheery globalism in a specific South Pacific milieu." —The New York Times
"A stereotype-smashing glimpse into the soul of the South seas" –Wired Magazine
"One of the most dynamic live experiences I have ever witnessed" –The Guardian, UK
Te Vaka  [The Canoe] is the leading Polynesian-rock fusion band that has been called "the finest South Pacific roots band" and "the heart and soul of the Pacific". They released their 10th CD last year, winning multiple Pacific Music Awards, following their 5th U.S. Tour. Te Vaka is riding high following the wildly successful release of Disney's new "princess" feature, Moana, with soundtrack and songs by Opetaia Foa'i & his band Te Vaka.
"Hamilton diehards likely know Lin­Manuel Miranda co­wrote the original songs for the film with composer Mark Mancina, but the collaborator of arguably more importance is Opetaia Foa'i, the Samoa­born frontman to Oceanic fusion band Te Vaka. Foa'i's influence is the one felt harder on the resulting sound, which mixes ecstatic marching bass drums with the swooning melodies of tribal chants." –NPR
Te Vaka's Pacific Islander musicians and dancers, under the inspired leadership of Opetaia Foa'i, create a contemporary sound infused with ancient rhythms of the Pacific.
"A Te Vaka concert is a jolt of life force. Primitive drums meet rock guitars … sensual undercurrents running through the dancing and musical rhythms… Unifying the islands of the Pacific, the canoe is about making connections, island to island, people to people. …In the consciousness of Pasifika, environmental responsibility is inseparable from spiritual instinct." -Maui News
In 2017, Opetaia Foa'i was awarded the "Special Recognition Award for Outstanding Achievement" at the Pacific Music Awards, his most recent of over 15 awards Te Vaka has received since their first album was released in 1997. Te Vaka has performed in 38 countries around the world, including Europe, Asia, U.S., and the Pacific, have consistently been at the top of the World Music charts, and won Best Pacific Music Group multiple times at the Pacific Music Awards.
AWARD-WINNING PERFORMERS FROM HAWAI'I AND THE PACIFIC