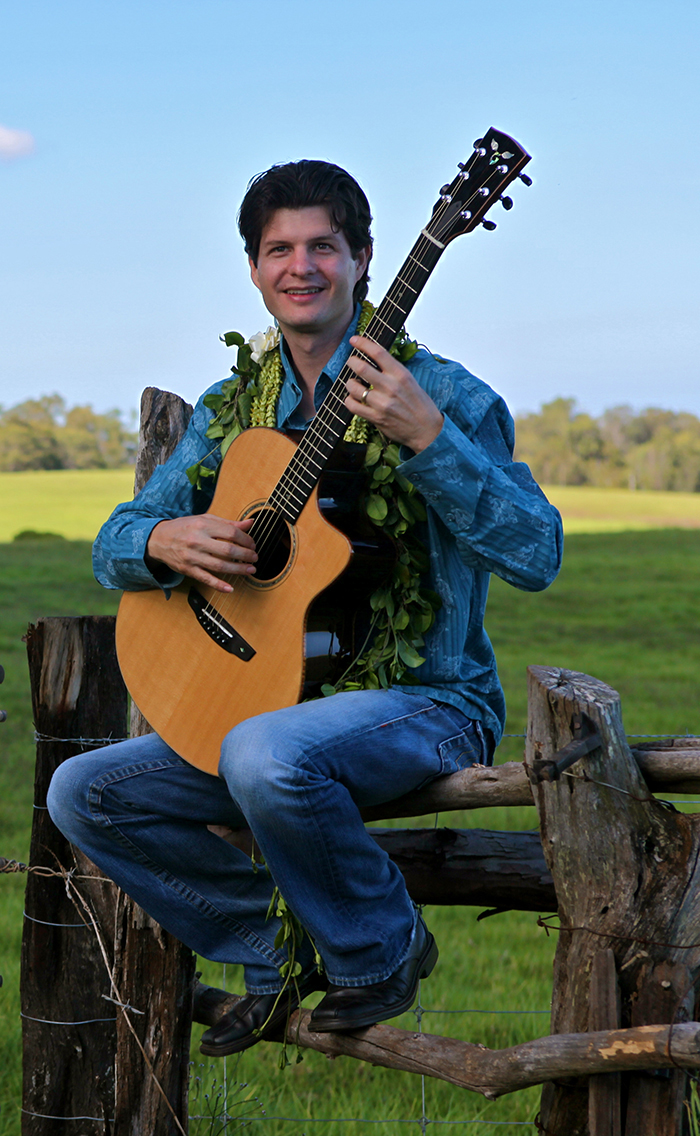 Jeff Peterson
"Add the Peterson name to the top 10 list of slack key giants"…His manner is impeccable, his style exquisite… Brilliant . . Peterson raises the bar a few notches in both slack key and jazz" –Honolulu Advertiser
"…one of our leading, innovative exponents of Hawaiian slack key guitar. An exceptionally talented guitarist, fluent in a variety of styles from jazz and classical to slack key" –Maui News
Guitar virtuoso Jeff Peterson is a star of the next generation of slack key guitar players. A two-time Grammy-winner, Jeff takes the open tunings of Hawaiian slack key to explore multiple genres with confidence and flair. His passion for the guitar shines through his solo performances and his deep knowledge of open as well as standard tunings has allowed him to collaborate with a wide variety of artists and orchestras. His talent with slack key, classical, and jazz guitar styles has given him a unique and transcendent voice on the guitar while being deeply rooted in the traditions of his Hawaiian heritage. In 2018, he was awarded a Native Arts & Cultures Foundation fellowhip.
Jeff has written a Concerto for Slack Key Guitar and Orchestra, Malama 'Aina, which premiered in 2016 with the Raleigh Civic Chamber Orchestra (Hawai'i premiere with the Hawai'i Symphony Dec 10, 2017). Five of his original songs were featured in the award-winning George Clooney film The Descendants, and his most recent solo CD Wahi Pana (Songs of Place) won the 2018 Nā Hōkū Hanohano (Hawai'i's "Grammy") Award, following Awards for Best Slack Key Album in 2014 and 2016.
2019 Tour Dates: with Masters of Hawaiian Music, with George Kahumoku Jr. and Nathan Aweau, Spring 2019
Tour Schedule
Keola Beamer & Jeff Peterson with Moanalani Beamer
Mon, Oct 8, 2018, The Hult Center for the Performing Arts, Eugene OR
Arts Northwest Juried Showcase – Arts NW Attendees Only
Tues, Oct 9, 2018, Alberta Rose Theatre, Portland OR
8:00 PM
Sun, Oct 14, 2018, Columbia City Theater, Seattle WA
Presented by Brown Rock LLC
2 Shows – 4 PM and 7 PM
https://www.ticketfly.com/purchase/event/1764374
Thurs, Oct 18, 2018, Harris Center for the Arts, Folsom CA
7:30 PM
Sat, Oct 20, 2018, The Old Steeple, Ferndale CA
Presented by Ferndale Music Company
7:30 PM
http://www.ferndalemusiccompany.com
Sun, Oct 21, 2018, Blue Note Napa, Napa CA
6:00 PM
Wed, Oct 24, 2018, Musical Instrument Museum, Phoenix AZ
7:00 PM
Fri, Oct 26, 2018, Daniels Hall, Denver CO
Presented by Swallow Hill Music
8:00 PM
http://www.swallowhillmusic.org
Past Tour Dates
Info goes here
Info goes hereInfo goes hereInfo goes hereInfo goes here
Concerto for Guitar & Orchestra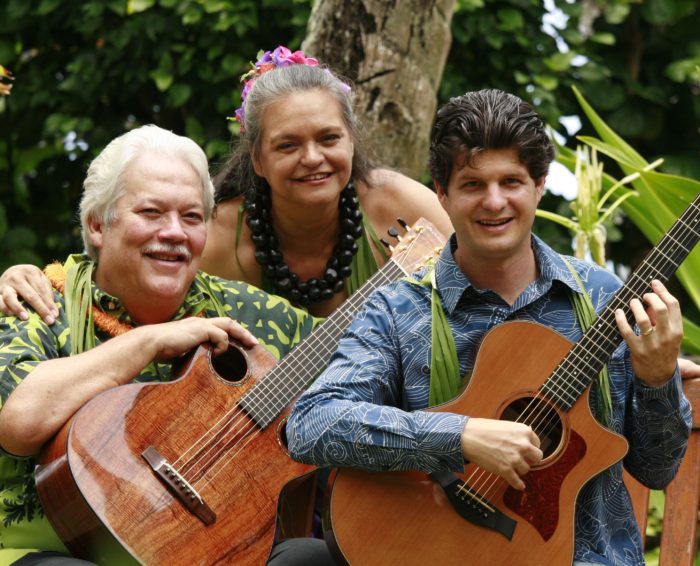 Photos: Kaliko Beamer-Trapp
Keola Beamer & Jeff Peterson, with Moanalani Beamer
Touring October 2018
Keola Beamer is a Hawaiian legend who has stretched the boundaries of slack key guitar music while remaining true to the soul of its deeply Hawaiian roots. Says Willie Nelson, "There's no better slack key player than Beamer." Jeff Peterson is a star of the next generation, his refined style recently awarded by the Native Arts & Cultures Foundation.
Together, they present an evening of superb guitar, accompanied by Beamer's rich and soulful vocals, as they explore the beauty of Hawaiian music as it reflects its native land and the range of Hawai'i's many cultural influences. Their styles feature the complexity of technique that has shaped the distinctively resonant sounds of Hawai'i, slack key guitar or ki-ho'alu, with playing encompasses classical and jazz guitar as well. They are joined by lovely hula dancer Moanalani Beamer, whose style reflects the long hula lineage of the Beamer family.
2019 Tour Dates: with Masters of Hawaiian Music, with George Kahumoku Jr. and Nathan Aweau, Spring 2019
Tour Schedule
Keola Beamer & Jeff Peterson with Moanalani Beamer
Mon, Oct 8, 2018, The Hult Center for the Performing Arts, Eugene OR
Arts Northwest Juried Showcase – Arts NW Attendees Only
Tues, Oct 9, 2018, Alberta Rose Theatre, Portland OR
8:00 PM
Sun, Oct 14, 2018, Columbia City Theater, Seattle WA
Presented by Brown Rock LLC
2 Shows – 4 PM and 7 PM
https://www.ticketfly.com/purchase/event/1764374
Thurs, Oct 18, 2018, Harris Center for the Arts, Folsom CA
7:30 PM
Sat, Oct 20, 2018, The Old Steeple, Ferndale CA
Presented by Ferndale Music Company
7:30 PM
http://www.ferndalemusiccompany.com
Sun, Oct 21, 2018, Blue Note Napa, Napa CA
6:00 PM
Wed, Oct 24, 2018, Musical Instrument Museum, Phoenix AZ
7:00 PM
Fri, Oct 26, 2018, Daniels Hall, Denver CO
Presented by Swallow Hill Music
8:00 PM
http://www.swallowhillmusic.org
Past Tour Dates
Info goes here
Info goes hereInfo goes hereInfo goes hereInfo goes here
AWARD-WINNING PERFORMERS FROM HAWAI'I AND THE PACIFIC